Hoards of internet enthusiasts crowed in unison, when Andrew "Weev" Auernheimer was convicted of computer fraud in 2012 and later sentenced to 3.5 years in prison. And on Friday, those cries were justified. A federal appeals panel just overturned the conviction but not for the reasons some activists might've hoped for.
The judges actually threw out the case simply because of where it was filed. Weev, you see, was physically located in Arkansas when he wrote a script that lifted over 120,000 iPad users' email addresses through a hole in AT&T's website that they later reported to Gawker. Meanwhile, his alleged partner in crime, Daniel Spitler, was located in California, and the servers they were targeting were in Dallas. But the case was brought against Weev in New Jersey.
That's a no-no, said the judges. "Venue in criminal cases is more than a technicality; it involves 'matters that touch closely the fair administration of criminal justice and public confidence in it'," they wrote. "This is especially true of computer crimes in the era of mass interconnectivity." So Weev, a self-described hacker and troll, is free to hack and troll again. His lawyers say they're "scrambling to get him out" of jail as soon as possible.
But! Unfortunately for cyber law advocates, the outcome of the case leaves the question of whether or not Weev's actions actually constituted hacking unanswered. While he was convicted for violating the Computer Fraud and Abuse Act, his attorneys and seemingly the entire internet insisted that Weev hadn't, since he visited a public website through valid URLs. The only damage does was to AT&T's ego.
So the Computer Fraud and Abuse Act, the one that prosecutors love to accuse hackers of breaking, will remain vague. Internet activists will pat themselves on the back for keeping another hacker (who didn't actually hack) out jail. And Weev, well, Weev will probably be just as salty as he's always been. [Wired]
G/O Media may get a commission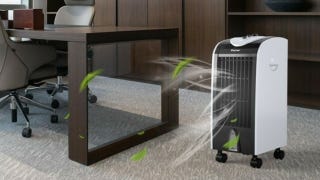 Save $10
Evaporative Portable Air Conditioner Cooler with Filter Knob
Images via AP / Flickr