If Guillermo del Toro wasn't making movies, he'd be a Fantastic Fest attendee. He's just one of those guys who lives and breathes, not just cinema, but weird, creepy, tense and gory cinema. So for him to bring his latest film, Crimson Peak, to the intensely genre film festival was a big deal.
Crimson Peak played Friday night at Fantastic Fest as the event's first Secret Screening. Every year the festival, which takes place at the Alamo Drafthouse in Austin Texas, does two or three films that aren't announced until you are in the theater. And while speculation runs rampant for each and every one, it was pretty much agreed Secret Screening #1 was Crimson Peak.
Unfortunately, one of the stipulations of seeing Crimson Peak was everyone had to agree on not reviewing the film until closer to release, so I can't get too detailed into what I thought about it. However, the biggest takeaway came from Del Toro himself. When introducing the film, he explained that despite what the marketing suggested, Crimson Peak was not a horror film. It's not Insidious. The director stressed that it's a "Gothic Romance" with horror elements, and he couldn't be more on the money.
That knowledge was the perfect appetizer before the film, checking expectations accordingly. To go along with that, every person in the main theater (of three showing the movie simultaneously) got a Mondo-designed, Crimson Peak pint glass filled with a brand new, red, Crimson Peak ale. It's that kind of touch that makes a Fantastic Fest screening a bit more special than anywhere else. This was an audience who loves del Toro, loves his movies, and loves movies like this, so we were incredibly excited to see what he had in store for us.
So how did everyone like Crimson Peak? The reactions are out there, because social media discussion was permitted. I personally tweeted, "If you love the films of [del Toro] you will love Crimson Peak. It's gorgeous, gross but also romantic. There's so much atmosphere it nuts."
G/O Media may get a commission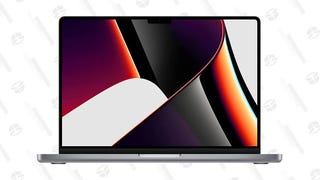 Save $300
2021 14" 1TB MacBook Pro
Others, both on social media and in conversations around the festival, had varying reactions to the film. Everyone praised its production design, makeup and costumes. That much you can tell from the trailers. Most people enjoyed the story and atmosphere del Toro created, along with the more horrific elements. Others lauded it as one of del Toro's best, right up there with Pan's Labyrinth. However some attendees said the characters felt secondary to the film's design, and they were disappointed. The gamut of reactions made sense from a filmmaker who regularly goes against expectations.
After the movie, del Toro stuck around for a Q&A. Many of the questions were specific to the plot of the film and some of the more jaw-dropping shots. What we can report is when you see the movie, the house in it is real. They constructed a three and a half story house, complete with running water and working fireplaces, to shoot the majority of the film's interiors. Also, the ghosts in the movie (which are in the trailer – not a spoiler) are all practical. They're enhanced with CG but, on set, each one was played by an actor in a costume to really help increase the emotional reaction.
And that was the big take away from the Crimson Peak Fantastic Fest screening. The movie was designed to elicit an emotional reaction from people, and it delivered that in spades.
We'll have more on Crimson Peak as we get closer to its October 15 release.
Image credit: Legendary Pictures and Arnold Wells/Alamo Drafthouse
---
Contact the author at germain@io9.com.