Marvel Studios head honcho drops some more hints about various Avengers' futures — including two missing mutants. Get the lowdown on the first footage from Tom Cruise's Oblivion. Plus tons of Battleship clips, and the first footage from Futurama's new season!
Spoilers from here on out!
Top image from The Hobbit.
The Avengers
Here's a new behind the scenes promo and two TV spots. [Comic Book Resources and Coming Soon]

Marvel Studios president Kevin Feige discusses Black Widow's role in this film, and how it will help set up her appearances down the line:
I think people are going to be surprised by how powerful Scarlett is in this movie, and how evolved her role is. We have already planned her next appearances and where to take that character because we believe in it and we believe in her in a big, big way. When will there be a standalone? Both is what we're heading toward. A lot of it is that we're only going to make two movies a year, maybe sometimes it'll be one movie a year like this year, maybe someday it'll be three movies a year just depending on what comes together. But really, it's two movies. So there's kind of a backup on the runway right now in terms of when can something go. We do like when some of the characters appear in other people's movies.

Everybody likes that!
Yeah. And that's probably where you'll see Black Widow next. But my favorite scene in Avengers is when Loki and Widow are having their scene together and Loki's in a cell, and he's trying to rile her up by mentioning things like "the hospital fire." Who knows what those things are? We haven't seen any of those things in other movies! What were those things, what do they mean? I love that. I'd love to explore that deeper.
In another interview, Feige reveals that both Marvel and 20th Century Fox own the rights to Scarlet Witch and Quicksilver, with Marvel solely being able to make use of their Avengers history without making any references to Magneto or mutants in general, and then vice versa for Fox. So, it's possible they will show up in an Avengers sequel, basically. [Superhero Hype]
G/O Media may get a commission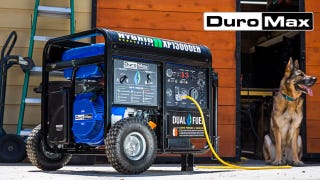 Black Friday Sale
DuroMax Generator Sale
---
Captain America 2
In yet another interview, Kevin Feige discusses the evolution of the Captain America sequel:
Cap's in the modern day now. So if we looked at war movies from the '40s as our inspiration for the first Cap, the next one we're looking at very different movies, very different inspiration. So it will almost be a different genre of film, which I've never seen before in a sequel.
[Wired]
---
The Amazing Spider-Man
Here are two more promo photos. [iTunes Movie Trailers]
---
The Hobbit
Director Peter Jackson defends the decision to shoot the film at 48 frames per second, which received a decidedly mixed reaction when recently screened at CinemaCon:
"It does take you a while to get used to. Ten minutes is sort of marginal, it probably needed a little bit more. Another thing that I think is a factor is it's different to look at a bunch of clips and some were fast-cutting, montage-style clips. This is different experience than watching a character and story unfold. I personally wouldn't advocate a 48-frame trailer because the 48 frames is something you should experience with the entire film. A 2 1/2 minute trailer isn't enough time to adjust to the immersive quality You get used to it reasonably quickly. We have obviously seen cuts of our movie at 48 and in a relatively short amount of time you have forgotten (the frame rate change). It is a more immersive and in 3D a gentler way to see the film."
On a related note, for a good description of what was actually in the footage, go here. The main takeaway is that Doctor Who star Sylvester McCoy is awesome as new addition Radagast the Brown... as if there was any doubt. [Hollywood Reporter]
---
Oblivion
EW has a great description of some CinemaCon footage from Tron Legacy director Joseph Kosinski's new post-apocalyptic sci-fi epic starring Tom Cruise and Morgan Freeman, among others:
The footage opens on a perfectly blue sky, and a series of glass and white steel platforms floating among the clouds. A small vehicle is perched on one of the platforms. It's a kind of cross between a helicopter and a private plane. Inside is Cruise's character: "This is Commander Jak Harper. Pre-routing electrical guidance and nav systems, all go." "Copy that, are you ready to go?" a computerized female voice asks. Cruise's character has a cocky look on his face. He's done this a lot. "Oh, I'm ready to go."

The copter-plane lifts off of the platform, but instead of rising, it plunges down through the clouds. Soon we see Cruise's character gliding through a hole chopped into the roof of an old municipal building, what looks to be an early 20th century library, with lots of stone and wood and dusty chandeliers hanging in stark shafts of light. Cruise is armed, and prowls through the library with his rifle drawn. We don't know what it is he's looking for, but he's clearly expecting something hostile... Whatever he's looking for, he finds it. Or it finds him.

There's a small black device with a blinking light on it – some kind of trap. As soon as Cruise's character sees it, he has time to whisper only "Oh s–t …" before a cable snares around his leg and yanks him across the room through a collapsing wall. In the shadows are dozens of figures, and the light reveals one of them: Morgan Freeman, sporting round goggles. "I've been watching you, Jak," he says.
There's still more detail at the link. [EW]
---
Van Helsing
Tom Cruise has reportedly signed on to produce and star in a new movie, based on Dracula's heroic nemesis Abraham Van Helsing. The movie is the main part of Universal's development deal with Star Trek and Transformers writers Roberto Orci and Alex Kurtzman, who will develop this new project for Cruise. The pair are also involved in the latest Mummy reboot. [Shock Till You Drop]
---
Dark Shadows
Here's a behind the scenes featurette. [Shock Till You Drop]

---
Fringe
Here's a trailer for the two-part finale, "Brave New World", which kicks off this Friday. [E! Online]

Here's an interview with Astrid actress Jasika Nicole, in which she discusses the possibility that the alternate universe won't be seen again. [Fringe Television]

Joshua Jackson says the end of the season will see the return of "someone huge." [E! Online]
---
Awake
In the truly excellently titled season — and almost certainly series, sadly — finale ""Turtles All The Way Down," Michael Britten stumbles upon some of the truth surrounding his accident, and the shadowy conspiracy starts to threaten both his realities. He's reportedly forced to go vigilante and put both his partners in danger to try to get at the truth. [E! Online]
---
Futurama
Here's a sneak peek at the upcoming seventh season premiere, "The Bots and the Bees."

---
Person of Interest
Here's a description for May 17's season finale:
Angel star Amy Acker guests as a psychologist placed under Reese's protection when her number comes up-but things don't go as planned when they end up trapped in the most heavily surveilled part of the city and must fend off the FBI and old foes.
---
Once Upon a Time
Here's a promo for this Sunday's episode, "An Apple Red as Blood."

Here's a video profile of Rumplestiltskin, featuring commentary by actor Robert Carlyle.

---
Grimm
The season finale will reportedly find Nick searching for the gold coins again after a bunch of grisly murders, and it sounds like Juliette might finally discover what's going on. [E! Online]
---
American Horror Story
Here's a casting sheet for some new roles in season two, which kicks off filming July 10:
[TERESA] Mid 20s. Caucasian, Latin, or Asian, Very sexy. She is the other half of "The Lovers" - her fiance will be played by Adam Levine. RECURRING GUEST STAR

[ALMA] Mid 20s, African American, beautiful. RECURRING GUEST STAR

[THE MOST BEAUTIFUL BOY IN THE WORLD] 20 to 29, open to all ethnicities, would prefer shoulder-length hair, but do not limit your submissions. RECURRING GUEST STAR

[TEENAGE BOY CONTORTIONIST] 15 to 20, we are looking for an actor who is skilled at being a contortionist. Please only submit actors who have experience. GUEST STAR
---
Eureka
Writer Amy Berg discusses the fallout of the death of Felicia Day's character Holly:
If you're asking whether there's more drama to come, then yes. There's also a hell of a lot of funny, too. We're still the same show everyone knows and loves. Creatively, this is the best season we've ever had. This is an opinion shared by our writing staff, cast, crew, and the network and studio as well. By the time it's all over, the fans will believe it, too.

Does the death of Holly — and the whole Matrix plotline — affect what's to come in season 5?
As with any big event in the lives of these characters, there will be ripple effects. Every episode will deal with it in some small way, whether it's a plot point or character beat.

Considering the ambiguousness surrounding Holly's death, can we be certain of what really happened?
You've seen the show, right? Let's just put it this way. Carter couldn't let go of Allison. Will Fargo be able to let go of Holly?
[BuddyTV]
---
The Vampire Diaries
Here are some promo photos for the season finale, "The Departed", which airs May 10. [KSiteTV]
And executive producer Julie Plec offers this teaser for the finale, which flashes back to the accident that killed Elena's parents:
"This episode isn't about peeling back a layer of the mythology onion. We actually will get a little flash of something else that happened during that time, that we never even really considered, and it's more of an emotional thing than it is a suspense thing."
Also, the Salvatore brothers agree that whichever one of them doesn't get Elena should leave town forever. [E! Online]
---
The Secret Circle
The season finale, which airs May 10, will feature Faye captured by witch hunters and will end with a major death. Star Gale Harold teases:
They are all in danger, the whole town. Everyone that's involved in this crew, in this witch ghetto, could get eradicated. There's a lot of crashed cars."
---
Teen Wolf
Here's a trailer for the second season of the MTV show. [KSiteTV]

---
Additional reporting by Jennifer Griffith-Delgado and Charlie Jane Anders.