Mickey Rourke gives away crucial Iron Man dialog. There are startling new pics from Surrogates, Transformers, Stargate Universe, Flash Forward and Sorceror's Apprentice. A tipster tells us Timothy Dalton's Doctor Who role. Possible Heroes gayness! Plus V, Fringe and Eureka.

Iron Man 2:
Mickey Rourke says he speaks Russian half the time in this movie, where he plays Tony Stark's adversary Whiplash. He quotes something which may be an actual line of dialog from the film: "If someone kills me, don't wake me up, because I'd rather be dead than live in your world." [Guardian via Cinematical]
Transformers: Revenge Of The Fallen:
In the first movie, Sam was the keeper of the map. In the second movie, in a real sense, he's become the map, says co-writer Roberto Orci. And it's Sam's open heart that makes the Autobots feel like they can share their secrets with him. [Baltimore Sun]
G/O Media may get a commission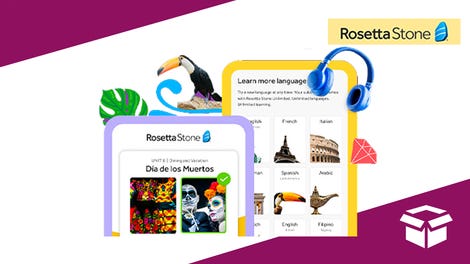 Extra 20% off
Rosetta Stone Lifetime Subscription - All Languages
And here's a new picture of Ironhide, who's got a sort of louche scowl about him. Much bigger version at the link. [Cinematical]

So remember last week when we showed you concept art of The Fallen, this movie's main villain? Well, in case you were dying to see what he looks like from the back, here's the rear view. [TFG2]

Surrogates:
Remember how Bruce Willis has a weird wig in this film when he's playing his robotic "Surrogate," out investigating robot murder? Well, he does. [SpoilerTV-Movies]

Doctor Who:
An anonymous tipster gave us some info about Timothy Dalton's supposed role in the final episodes of the David Tennant era. (So take it with a grain of salt.) Apparently, Dalton will be playing the Lord Chancellor of the High Council of Time Lords, and we'll first see him at the end of November's "Waters Of Mars." Also popping up at the end of "Waters"? Daleks and Ood. We'll be seeing more of Dalton, at least, in the final two Tennant episodes, around the end of the year. But we don't know if Dalton's appearances are current events, or flashbacks. Also, the last scene of Tennant's final episode is Matt Smith, wearing Tennant's brown suit, staring out at "the wreckage." Remember, you read it on the internet, so it must be true!
Fringe:
Another anonymous tipster gives some plot info about season two to fansite FringeTelevision.com. The first episode deals with a shapeshifter who continuously re-molds his face. And the second episode is about a mole man who lives under a town, pulling people underground and eating them. Also, Peter will play a more central and active role in solving cases this time around. [FringeTelevision]
V:
The alien-invasion remake, set to debut on ABC sometime in 2010, will have a definite pre-planned ending, just like Lost. New showrunner Jeffrey Bell says he's working out the storylines for the next few seasons, and the first season will build up to a huge conclusion that "will hopefully be awesome," and will lead into season two. And Bell says that like the original series, this new V will ask big questions:
Just as the original "V" used the story of an alien invasion as an allegory for Nazi Germany, the new "V" will tackle issues of government, devotion, race and faith.

"Especially when you look at our current times, with the economy, wars and social strife, it's the perfect time for a force like this to come along," Bell said. "In many ways this is a very American show, about the individual vs. society. It's about how America can appreciate and question things that seem to be too good to be true."
[Variety]
Heroes:
Right after NBC announced that Madeline Zima would be playing Claire Bennet's college roommate, they announced the casting of daytime soap star Rachel Melvin as Annie, a second roommate for Claire. And according to the Hollywood Reporter, Claire and Annie will "share sleeping quarters (and maybe more.)" Are they hinting at a lesbian relationship for Clair-bear, or am I totally misunderstanding? [Hollywood Reporter]
The Sorceror's Apprentice:
Some set pics show rival sorceror Horvath (Alfred Molina) and his sidekick Drake Stone (Tony Kebbell) riding in a taxi — that's surrounded by identical clone taxis, with the same taxi number and advertisement. Are they hiding out from Nic Cage's sorceror? In another scene, they ride in a silver stretch limo. More pics at the link. [StitchKingdom via Cinemablend]

Stargate Universe:
Here's a gallery of close-ups of the new show's crew. Let's start the deadpool: Which of these bright new faces won't survive the first few episodes? [Gateworld]

Eureka:
The second half of the third season picks up right after the midseason cliffhanger, with Jack Carter being removed as sheriff, and Allison expecting her recently dead husband's baby. And of course, Carter is facing some tough decisions regarding his daughter, Zoe. And he has a new love interest, played by Jamie Ray Newman. The upcoming episodes include homages to The Blob and Close Encounters Of The Third Kind. [SF Universe]
Flash Forward:
A few new photos show our FBI crew at work, including Joseph Fiennes and John Cho. [SpoilerTV]

Pushing Daisies:
In the final episodes, airing Saturdays this month, Chuck gets some closure — she gets to see the Aunts, and she actually goes and knocks on their door. And we find out what happened to Olive. But if the show had continued, we would have gotten an even better ending for Chuck, says actor Anna Friel. [Sci Fi Wire]
New Moon:
Michael Sheen plays Aro, head vampire of a coven that rules the vampire world. He describes the character: "Oh, there's a bit of a Child Catcher here [from Chitty Chitty Bang Bang]; bit of the Blue Meanie from The Yellow Submarine; bit of Olivier from Richard III. There was a bit of all kinds of stuff." [Empire]
Additional reporting by Alexis Brown.