As an editor at Pyr Books, Lou Anders has published tons of fantasy novels of all stripes. But now he's crafted his own fantasy novel, Frostborn, in the sword-and-sorcery tradition that goes back to Conan. But what's the difference between "epic fantasy" and "sword and sorcery"? Anders explains.

Nothing will land you an ax in your skull or a dagger in the spine faster than trying to define science fiction and fantasy subgenres. Depending on your tolerance levels, doing so can be a fun exercise in geekery or a frustration-inducing time-sink. For me, it generally falls into the former category, though I admit to having got my back up a time or two, usually with people who use the word "is"in place of the words "tends to be". If I can explain, when talking about categories of fiction I think definitions should always be descriptive not proscriptive. I prefer to talk about the sorts of tropes that generally group together around a particular subgenre, rather than insisting that only those tropes and conventions can meet the requirements of a form or that all of those criteria must be met for a given work to qualify. Because there are always exceptions to the rule.
Take the distinction between the subgenres of sword and sorcery and epic fantasy, for instance. Because of my own love of both, my very public advocacy of S&S and the fact that I edit a lot of fantasy, particularly grimdark (don't get me started) fantasy, I'm often asked for definitions. I frequently give the following short hand example: Epic fantasy is Homer's The Iliad while sword and sorcery is The Odyssey. I follow this up with, J.R.R. Tolkien's The Hobbit is sword and sorcery to The Lord of the Rings epic.
G/O Media may get a commission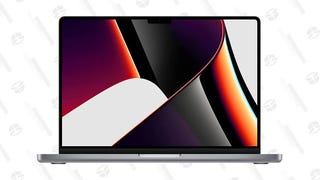 Save $300
2021 14" 1TB MacBook Pro
To go into more detail, epic fantasy tends (see? tends!) to involve stories on a grand scale, where armies are involved in battles across sweeping landscapes, where stakes are global and detailed continent or country maps are de rigueur. There may or may not be a dark lord, but there are certainly multiple characters, maybe even hundreds of characters.
By contrast, sword and sorcery tales tend to confine themselves to one or two characters, concern themselves with low stakes and high action, and confine themselves to the moment. The heroes of sword and sorcery often aren't. The quintessential S&S protagonist is often someone who is morally ambiguous and self-serving.
But let's go back to that phrase "tends to be,"because, of course, this definition breaks down at the edges, as all such definitions do. Take Michael Moorcock's Elric, one of the defining S&S characters. Though Moorcock is disdainful of maps and our focus rarely leaves his Eternal Champion, still Elric is caught up in world-altering events a time or two, even destroying and restarting the universe once. James Enge's broken down alcoholic, wizard and warrior Morlock Ambrosius is a modern S&S that could stand proudly alongside Elric, Conan or Fritz Leiber's Fafhrd and the Gray Mouser (another classic duo), but he too is often caught up in matters of global import. What's more, as an alchemist who can change lead into gold, Morlock is rarely after the ill-gotten gains that attract so many S&S leads. And Saladin Ahmed's wonderful Dr Abdulla Makhslood is neither greedy nor self-serving, but a holy man fueled by the power of his faith.
With its tight focus on Bilbo Baggins and a small group of dwarfs on a journey fraught with monster-encounters, The Hobbit is a contemporary Odyssey, yet it ends with the Battle of Five Armies (though, admittedly, before Peter Jackson's Bilbo largely sat the battle out). And then of course there is George R. R. Martin's sweeping A Song of Ice and Fire series, which is as epic as epic can be, and yet it is peopled almost entirely by the sort of morally ambiguous, self-serving antiheroes that are historical S&S's bread and butter.
When it comes to definitions, I prefer to think of subgenres as mountain peaks. We know, at the summit, that Robert E. Howard's Conan is pure sword and sorcery and The Lord of the Rings is epic fantasy, but as we head down the mountain, the boundaries are murky and our slope levels out. What's more, some very exciting work may lie in the valley between two peaks (Glen Cook's Black Company novels, for instance).
When I approached my own recently released middle grade novel, Frostborn, I decided to write in the valley. My goal was to bring the kind of fantasy fiction I enjoyed when I was younger to an 8 to 12 year old audience, in a work that could skip back and forth between sword and sorcery and epic fantasy as the needs of the narrative dictated. Frostborn itself is closer to S&S in its scale and focus, though the second novel in the Thrones & Bones series dials up the stakes, while the third novel will be more epic still. Middle grade readers tend to be less worried about genre definitions and more concerned with having fun and being thrilled, and maybe there's a lesson for us all there. Fortunately, fantasy fiction is broad enough there's something for everyone, no matter where on the mountain you fall.
——————
Lou Anders's research on Norse mythology while writing Frostborn turned into a love affair with Viking culture and a first visit to Norway. He hopes the series will appeal to boys and girls equally. Anders is the recipient of a Hugo Award for editing and a Chesley Award for art direction. He has published over 500 articles and stories on science fiction and fantasy television and literature. Frostborn, which Publishers Weekly described as "thoroughly enjoyable"(starred review), is his first middle grade novel. A prolific speaker, Anders regularly attends writing conventions around the country. He and his family reside in Birmingham, Alabama. You can visit Anders online at louanders.com and ThronesandBones.com, and on Twitter at @ThronesandBones.