So far most of what's been written about Google Glass has been united by one commonality: It's been written from the perspective of someone who had to wear Glass. Because they were going to write about it. But here's when you'll actually want to wear it. Or at least, when I do.
I never planned to do a formal review of Glass. I use it when I feel like it's appropriate—when it suits my needs better than a phone or an action cam would. And frankly, that doesn't happen very often. But when it does, it makes a huge difference.
When I Bike
While I'm somewhat lukewarm about Glass a lot of the time, I actively love it when I'm biking. The way turn-by-turn directions are implemented is more or less perfect for riding. It warns you 1,000 feet before a turn, and tells you (through the bone-conductive speaker) which street to look for and where you'll be going. Then the screen lights up right before the turn. It's up and out of the way enough that it's not distracting, and when it's not lit, you can see right through it.
I've also been able to read (or listen to, rather) incoming text messages and respond without taking my eyes off the road, and I even started a video call with a friend while I was mountain-biking in Utah. The speaker is too quiet to use in most situations, though, especially if there's any kind of traffic. My conversation was pretty much one-way, and with directions I typically still have to look up at the screen to confirm what I think I just heard, but it's still a great system.
Glass also makes a pretty excellent POV action cam. No, it's not ruggedized or waterproof, but not all activities are XXXXXtreme enough to necessitate going full GoPro. Glass's image quality is really nowhere near GoPro or any of the other top action cams, but its additional features—the always-on connectedness—makes up for it in many instances.
The highlight of my time with Glass so far is this video. While I was in Utah, trying out some new mountain bikes for a story, I ended up being led down the most technical trails I've ever attempted, by a long shot. There were jumps (which I'd never done), logs, bridges, teeter-totters, and steep, bermed-out corners. It was absolutely thrilling, and Glass captured these highs more or less just as I saw them.
G/O Media may get a commission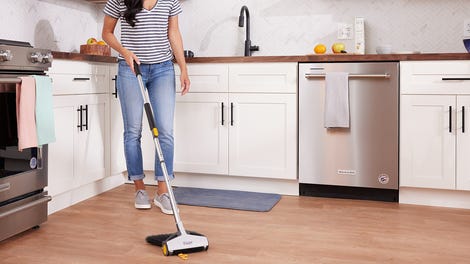 BOGO 50% Off
Flippr - BOGO 50% Off
It also captured me eating copious amounts of shit. Twice. Watching the end of that video still makes me wince, but I'm really happy that I have it, and significantly, Glass survived these falls just fine. It may not be ruggedized, and you certainly wouldn't want to risk it often, but at least it's not as fragile as its namesake.
If I had one request to Google for the next OS version it would be adding this simple voice command: Shoot Extended Video. As is, I can start the video camera rolling on Glass without taking my hands off the handlebars. This is fantastic, since you can have it start shooting at a moment's notice. The problem is the video will only run for 10 seconds. If I want to shoot longer, I have to let go of the handlebars with my right hand, and press the camera button. "Shoot Extended Video" would effectively make it a hands-free action cam, which would be fantastic. Assuming, again, that the video quality improves.
When I Moved
I just moved cross country, which involved putting my entire life into boxes. It took weeks and it sucked. At the same time, I was also hacking away at several work deadlines. I had emails and text messages to field. Getting a boop in my ear, looking up, and seeing that an email wasn't important so I didn't have to stop what I was doing and deal with it was really helpful. At one point I was carrying a giant box down three flights of stairs, I received an important text message, and was able to reply without even putting the box down. It was sweet.
It meant I never had to break my stride, which is big when you're moving, exhausted, and are looking for any excuse to stop. It helped tremendously with my move, but it would be equally handy taking out the garbage, grocery shopping, painting, or really doing anything where you need both of your hands. It's pretty great to have in those instances.
Again, it wasn't perfect. I can only get my Gmail through it, not my work email, so I couldn't respond to everything. Also, emails you read (or have read to you) through Glass remain marked Unread in your Gmail, which wastes time when you get back to a computer/phone. A simple "Mark As Read" voice action would be great.
When I Need to Take an Instant Photo
You know when else Glass is great? When you've got an inkling that you might just want to take a picture or shoot a video while you're out and about. In the first 10 seconds of the biking video above you see a little dust devil swirling around and then dissipating. It was cool. It didn't last long. I was the only person in our group who got a shot of it. Why? Because my camera was already out and turned on. I just had to hit the record button. Everyone else was digging through their pockets to get their phones out, and by the time they'd extricated them, the dust devil was gone.
This has happened a few other times while I've been wearing Glass out with friends. Something funny is happening, or something cool, and I'll be first on the draw, usually by 10 seconds or so. It sounds mundane, but in real life, it's a killer feature. They say "The best camera is the one you have with you," but isn't the one you have with you and is turned on, aimed in the right direction, and ready to shoot even better? Image quality isn't as good as on a high-end 2013 smartphone, but it's far from bad.
When I'm Driving Someone Else's Car
Confession: I have been completely spoiled by turn-by-turn directions. When I'm in my own car, I have a dash-mount that keeps my phone right at the bottom of my windshield, so I can see my upcoming turn while keeping the road in my field of vision. In my book, that's the safest way to do it.
But in the weeks leading up to my move I sometimes had to borrow a friend's car or use a Zipcar. In both cases, there was no dashboard mount. In the past, I've always just put my phone down in a cup holder, or in my lap, and cast furtive glances downward when I needed to know what turn was coming up. Frankly, it wasn't safe.
With Glass, directions pop up just when you need them on the screen just above your field of vision. It actually feels very safe and is much, much less distracting than looking down at your lap, or into a cup holder. That said, a dash-mount is still the best method.
When I'm Feeling Dada
Google Glass has a camera button on top of the frame. It is very easy to press. The way Glass was built, it rests most comfortably upside down, on a flat surface. Do you see where this is going?
I've talked to other Glass Explorers and it seems to be a universal experience: It's really easy to take an accidental photo. They're usually upside down, blurry, and weird. To celebrate this modern Dadaist movement, I created an Accidental Glass Shots album. Just for kicks. Most of the time it's harmless, except for the one time I took a picture of myself naked.
It's silly, and you might end up deleting all of yours. But it also only takes up about 1MB of your storage, and gives you a fuzzy little Glass-eye view into your world.
When I'm Feeling Futuristic
The one thing I'm convinced about Glass is that like it or not, it's the future. Not this iteration, certainly. The Explorer Edition is a pre-pre-beta. There are a lot of bugs to be worked out, which is really what the Explorers are doing. They're finding all the ways it could be improved. And it will be. And, if I were a betting man, I'd say not too many years down the line, we'll be using wearable tech like Glass as our primary means of communication. Or many of us will, anyway.
When I've forced myself to wear Glass and go out into public I rarely make it more than a block before someone stops me. Yo, that's that thing!? Do you like it? Can I try it? I basically gave up on wearing it when I had somewhere to be because it was either be rude or be late. But of course people want to ask you about it. They want to know if this really is what the future will look like. It's a natural response. It's curiosity, and it can be kind of wonderful. Sometimes I'll talk to complete strangers about what I like and what I don't like, sometimes I'll let them try Glass on. So, if you've long yearned for an instant conversation-starter, this is the best one I've ever seen. At least until everyone has one.
Years from now we'll look back on this version of Glass and chuckle at its limitations—the same way someone from Lamborghini might look at a Model T—but it represents an important turning point. A shift. It's where this piece of the future passed the line between high-concept fantasy to an actual, working piece of hardware.
I wear Glass when I want to feel like I'm in the future. Actually, scratch that. I wear Glass when I want to actually be there.