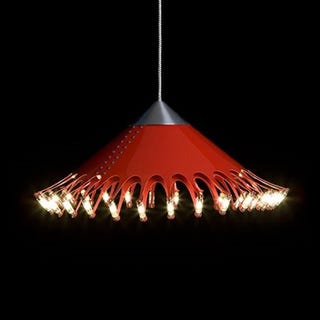 Designer Christopher Moulder has taken a new approach to the lampshade by integrating both shade and lamp into a single unit. Plus, the shade conducts electricity, so there is no need for wires.

SHADE brings new life to an iconic form with a formal, tuxedo-like appearance with its terminations to the bulbs referencing bow ties and the stainless steel button head cap screws alluding to silver studs and cuff links.

SHADE is a low voltage fixture using its aircraft aluminum body to conduct electricity to 28, 12V/10W high efficiency, long life and high color rendering Xenon Festoon bulbs. Finished meticulously with catalyzed acrylic enamel, SHADE is available in three colors: torch red, white and silver metallic.
Okaaaaay, I'm not feeling "tuxedo" here, but it does look damn good in whatever it's wearing. [Christopher Moulder via MocoLoco]