Get a look at Shazam!'s electrifying new logo. Peyton Reed discusses Wasp's important role in Ant-Man and The Wasp. Preacher adds a few more intriguing new characters. Plus, footage from the season finale of The X-Files, Ryan Murphy confirms a few more familiar faces for American Horror Story, and more. To me, my Spoilers!

Deadpool 2
A new report from The Hollywood Reporter about the film's reshoots and recent test screenings also includes an intriguing claim that at least one additional reshoot involved several hours in Los Angeles to add a "secret cameo" to the film. Time to start speculating wildly in the comments!
Speaking of reshoots, the Negasonic Teenage Warhead herself Brianna Hildebrand spoke to Screen Geek about them and the misconception that's developed around reshoots in general recently:
It was nothing that had gone wrong. I think it's a common misconception too – that people think that reshoots are to fix things that people didn't like. A lot of the time, reshoots are to add more of the things that people loved. [Filmmakers] watch their films again and are like "better fix that". I don't know how much I can say about that. Usually films hate it when you talk about their reshoots – solely because people think that it's because the film was bad for the test audience – but it was all good.
G/O Media may get a commission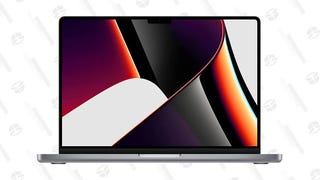 Save $300
2021 14" 1TB MacBook Pro
---
The Predator
In a Facebook post, Fred Dekker confirmed he's currently in Vancouver filming reshoots on The Predator.
---
Ant-Man & The Wasp
In the latest issue of Empire magazine, director Peyton Reed stated Ant-Man & The Wasp is "not a romantic comedy," as previously advertised.
It was important to me, in this movie called Ant-Man and The Wasp, that she's not a supporting character. She's a lead character. She really was, along with Sue Storm of the Fantastic Four, one of the first female Marvel heroes. I feel a certain responsibility with The Wasp. This one explores the different generations of Ant-Man and The Wasp. I thought that was an interesting thing we haven't seen in a Marvel movie. It's not a romantic comedy. The idea might enter Hope's brain: does she need Scott Lang in her life?
---
Everest
Agents of SHIELD's Chloe Bennett has joined the voice cast of the upcoming animated movie, Everest, which concerns "a group of misfits" climbing the Himalayas to reunite a lost yeti named Everest with his family. [THR]
---
Shazam!
The new logo for the film has been revealed via the movie's twitter account.
---
Rampage
Warner Bros. is currently celebrating "Rampage Week" on the film's official Twitter, which includes daily posters and an AR contest adjudicated by Dwayne Johnson, himself.


---
Avengers: Infinity War
Empire Magazine has also released all six variant covers of their upcoming Infinity War issue.
Speaking with the Toronto Sun, Robert Downey Jr. cited the scene where Thor meets the Guardians of the Galaxy as his favorite in the movie.
My favorite shot in the movie has already been seen, and it's when Thor, who's just totally gnarled up, turns and goes, 'Who the hell are you guys?' and you cut to the Guardians [of the Galaxy]. I'm like sold. If the whole third movie was that scene, we're fine.
---
A Series of Unfortunate Events
Allison Williams has joined the cast in a currently undisclosed role.
---
Preacher
Adam Croasdell and Prema Cruz have joined the recurring cast of season three. Croasdell will play Eccarius, "a 350-year-old vampire who bears wisdom and has an air of aristocracy. He is regal, charming, and styles himself after the more romantic, Gothic images of vampires. He appears to be a cliché at first but a much darker character lurks beneath the surface." Meanwhile, Cruz has been cast as Madame Boyd, "a tough forward thinker. Educated and attractive, she is taking the family business into the modern age." [Deadline]
---
American Horror Story
Ryan Murphy has confirmed to Entertainment Weekly both Kathy Bates and Evan Peters will return for season eight.
Kathy and Sarah Paulson have a lot of great stuff to get to do. So, with Evan Peters, the three of them are the leads this year.
---
Titans
Talkies Network captured a set photo of a trailer labeled "Stunt Maroni 1," indicating mob boss Sal Maroni will make an appearance on the series.
---
Arrow
Following Supernatural's crossover with Scooby-Doo, Stephen Amell stated he hopes the CW will consider a Pinky & the Brain crossover with Arrow.
---
Westworld
Spoiler TV has pictures from the first two episodes of season two. Click through for more.
---
Black Lightning
The ASA come after Black Lightning in the synopsis for "Black Jesus: The Book of Crucifixion."
As suspicions grow that Jefferson Pierce (Cress Williams) is Black Lightning, the ASA arranges to have him arrested. Lynn (Christine Adams) seeks help from Detecitve Henderson (Damon Gupton). Meanwhile, as Jefferson is in custody, Gambi (James Remar) and Anissa (Nafessa Williams) work together to show Black Lightning is still running around the streets of Freeland.
---
Legion
Meanwhile, here's an extremely terse synopsis for episode 3 of season 2, "Chapter 11." courtesy of Spoiler TV.
David navigates the maze.
---
Shadowhunters
The Warlocks' gets corrupted by demons in the promo for next week's episode, "The Powers That Be."
---
The X-Files
Finally, Fox has released an extended trailer for tonight's season finale, "My Struggle IV."
---
Banner art by Jim Cooke.