Palestinian artist Larissa Sansour uses science fictional imagery to discuss her people's stateless condition, so her work was always bound to cause some controversy. She's done a host of short films playing with science fiction movie themes, and commenting on Middle Eastern politics.
But after Sansour's "sci-fi photo series" Nation Estate became one of the finalists for the Lacoste Elysée Prize 2011 — a prestigious award that carries a payment of over $30,000 — the contest's sponsor, Lacoste, insisted that her work be disqualified. (Yes, the company that makes those funny alligator shirts.) Sansour's name was removed from the prize's website, and the photos were removed from an upcoming issue of the magazine ArtReview.
The Nation Estate Project imagines the entire Palestinian people living in one giant high-rise building, sort of like a J.G. Ballard novel, with each floor representing a different city. It's an offshoot of one of her science fictional short films. Sansour told the Daily Star:
I think the most shocking thing about this development, is that I didn't apply for this prize... They nominated [me] only to revoke my nomination later on grounds that my work is 'too pro-Palestinian.'
At first the Musee de l'Elysee stood behind Lacoste's decision to remove her work after it had already been chosen for inclusion by the judges. But later, in a statement, the museum changed its position, announcing it was suspending the contest and distancing itself from Lacoste's decision:
The Musee de l'Elysee has based its decision on the private partner's wish to exclude Larissa Sansour. We reaffirm our support to [her] for the artistic quality of her work and her dedication... For 25 years, the Musee de l'Elysee has defended with strength artists, their work, freedom of the arts and of speech. With the decision it has taken today, the Musee de l'Elysee repeats its commitment to its fundamental values.
G/O Media may get a commission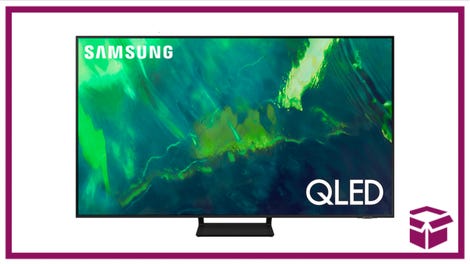 35% off
Samsung Q70A QLED 4K TV
Save big with this Samsung sale
If you're ready to drop some cash on a TV, now's a great time to do it. You can score the 75-inch Samsung Q70A QLED 4K TV for a whopping $800 off. That knocks the price down to $1,500 from $2,300, which is 35% off. This is a lot of TV for the money, and it also happens to be one of the best 4K TVs you can buy right now, according to Gizmodo.
Check out some of the images from Nation Estate below: