Nine years ago, I watched Doctor Who for the first time. I was instantly hooked. To this day, if I watch a classic Doctor Who story, I will love it unconditionally. I just wish I had the slightest idea why.
My first brush with Doctor Who actually came in 1996, when Fox gave me as an eighth birthday present the Paul McGann starring TV movie. If memory serves, I got about ten minutes in before switching it off, confused and terrified by what I had just seen. At least one of those reactions endures to this day. And, like so many others who watched the TV movie in 1996, I came away with absolutely no idea what Doctor Who actually was, and certainly no desire to watch any more of it.
Six years later and already a committed nerd, I decided to give the show another chance. I had been exploring British science fiction in the form of the various Gerry Anderson shows for a while now, and Amazon.co.uk kept telling me that if I liked UFO - which I really, really do - then I might like Doctor Who...and if you can't trust the recommendation algorithm for an online retailer, then who can you trust?
So, on October 26, 2002, I took the plunge and ordered the "Tomb of the Cybermen" DVD. Then, showing my typical levels of restraint and business savvy, I ordered "Carnival of Monsters" just a week later - before the first DVD had even arrived - and then followed that up by getting "The Aztecs" and "The Robots of Death." I hadn't even watched any of the show yet, and already, I had decided I was hooked.
I'm not 100% sure which story I watched first - it was either "Tomb of the Cybermen" or "Robots of Death", then the other shortly thereafter. Instantly, I knew this was completely unlike anything I had watched before, and it was completely, unutterably awesome. Since then, I've bought every story I can on DVD, plus a disturbing number of audio adventures to supplement my time spent with the classic Doctors.
G/O Media may get a commission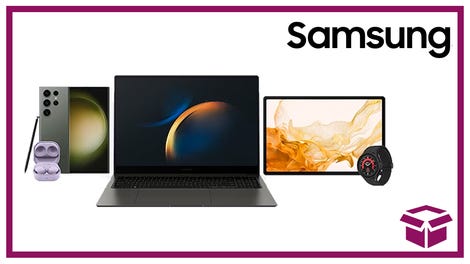 24 hour deals
Discover Samsung - Daily Deal
In a way, I had become part of the very last generation of old school Doctor Who fans, one of the final few who would approached the new series with knowledge and love for the original, rather than the other way round. I'm glad it worked out that way, because I'm not sure I would love classic Doctor Who as much as I do if the new series was my primary frame of reference. Because, you see, for all the faults of the old series, for all its patchy storytelling, creaky sets and creakier acting, its non-existent direction and often embarrassing special effects and costuming - for all those things, I still love the classic series.
Honestly, it's more than that. I can't even look at Doctor Who objectively, not really. I'll happily dissect the strengths and weaknesses of the Star Trek franchise, even for my beloved favorite Deep Space Nine. I'm painfully aware of the faults of latter-day Futurama - just ask the not always pleased readers of my recaps. As I may have mentioned once or twice around here, I'm quite fond of Isaac Asimov, but I can name a bunch of his stories that completely miss the mark. And yet, for Doctor Who, even at its crappiest, I can't help but love it.
If you put a Dalek plunger to my head and demanded I name the worst classic Doctor Who story, I'd probably have to say the tenth anniversary special, "The Three Doctors", in which the first three Doctors are brought together in an antimatter universe to defeat the rogue Time Lord Omega, who is out to destroy our universe. The whole thing is, objectively speaking, complete crap, especially considering it's meant as a triumphant celebration of everything that made Doctor Who great.
Let's see what's wrong with it. Well, there's about fifteen minutes of plot desperately stretched out over four episodes, Jon Pertwee looks visibly bored throughout, Stephen Thorne rants and raves as the villainous Omega with all the force of an unconvincing sledgehammer, Patrick Troughton is forced to play the Second Doctor as an obnoxious buffoon working from a script that clearly doesn't understand his character, and Nicholas Courtney's Brigadier is turned into an unpleasant idiot in the name of bad comic relief, with the poor Brig seemingly forgetting everything he has ever seen and experienced with the Doctor(s).
What's more, the special effects look terrible even by seventies Doctor Who standards, there's an absolutely atrocious Beatles reference that is both contrived and cringe-worthy, the other Time Lords are as wooden as Sequoia National Park and repeat the same five lines over and over again, and supporting character Dr. Tyler is seemingly only there to spout bad technobabble and ask inane questions. Worse, the script actually seems to know how pointless this all is, with Dr. Tyler observing after a clearly pointless failed escape attempt that that was all just a big waste of time, which really seems to mean more than it was intended to.
So yeah, that's my pick for the single worst story, the absolute nadir of classic Doctor Who. And you know what? White Guardian help me, but I still love it to bits. There are some stray pieces around the fringes that work really well here - Katy Manning is as good as ever as Jo, and John Levene's Sergeant Benton is a lot of fun as the Second Doctor's de facto companion, filling in for the otherwise engaged Frazier Hines as Jamie. And, while most of the jokes are pretty crap, Patrick Troughton absolutely nails the television set joke, which is one of the best random one-liners in the show's history.
Honestly though, a lot of my love for "The Three Doctors" has to do with William Hartnell, who had to appear solely in pre-filmed inserts because of his rapidly deteriorating health. Watching it now, it's obvious that Hartnell was very sick and barely able to summon up the strength to play the Doctor one last time. And yet you can also see the herculean effort he is making to recapture his old performance, and the fact that he actually just about succeeds always makes me smile. I know, objectively, that "The Three Doctors" is rubbish, and it's not one that I seek out much to rewatch, but when I do, I come away having enjoyed myself.
I didn't always used to be like this. Indeed, there's written evidence of that on this very site - I point you to my post from New Year's Day 2010 ranking the various regeneration stories, in which I have some pretty brutal things to say about Tom Baker's swansong "Logopolis." Specifically, I called it (deep breath) "a disastrous conclusion", a "tedious, nonsensical" story, "an utterly unworthy finale for the classic series's most iconic Doctor", and generally sluggish, just for good measure. Its predecessor, "The Keeper of Traken", had bored me to tears, but "Logopolis" had apparently bored me to a blinding rage.
Two years later, and having rewatched both of those stories, I'm not so sure. I think all of those criticisms could still stand - the Master's plan to hold the universe to ransom remains embarrassingly ludicrous - but they just don't bother me as much anymore. Yes, "Logopolis" moves slowly, but I can see now and appreciate the funereal tone they were trying to evoke, and Tom Baker's performance - one informed by the fact that the Doctor spends the entire story knowing his death is imminent - adds a certain gravitas to the proceedings that make the whole thing feel more profound that it really probably is. The story hasn't changed, but how I think about it most definitely has.
And, to be honest, almost every Doctor Who story requires a bit of mental gymnastics to put aside its faults, be they a matter of story, acting, or budget. I'd say there's only two classic Doctor Who stories that completely stand up, that require absolutely no apologies or concessions to the fact that they were made decades ago on a minuscule amount of money. These are "The Caves of Androzani" and "The Robots of Death." They might not be absolutely perfect, but they're so damn close, and I will gladly put them up against any classic work of science fiction and feel they can hold their own. They're so good, I'd argue they justify all twenty-six seasons of classic Doctor Who all by themselves.
But for pretty much every other Doctor Who story, you've got to start making excuses. "The Talons of Weng-Chiang" has the giant rat and the unfortunate casting of a very not Chinese actor as Chinese magician Li H'sen Chang. "City of Death" has a bit too much footage of Tom Baker and Lalla Ward pointlessly running around Paris. "Spearhead from Space" caps off a thrilling, legitimately scary story with a brutally unconvincing bit of tubing as the Nestene Consciousness. "Genesis of the Daleks" doesn't have quite enough story to fill out six episodes.
"Carnival of Monsters" has some dodgy costumes and even dodgier model work. "The Curse of Fenric" gets a bit too pretentious. "Pyramids of Mars" has some serious plot holes. "Tomb of the Cybermen" has some unfortunate racial subtext. "Revelation of the Daleks" forgets to include the Doctor (or the Daleks, for that matter). Pretty much all the William Hartnell stories are glacially paced. Now, these are minor problems that a fan can easily ignore. But they're the sort of glaring weaknesses that turn off casual viewers from otherwise classic stories, and they earned Doctor Who the reputation that, even at its best, it wasn't very good. Not a fair appraisal, I'd say, but perhaps an understandable one.
The thing is, I can look at classic Doctor Who objectively...I'm just not sure I want to. On a very basic level, I just love classic Doctor Who, and at a certain point, that love became unconditional. No other show provokes this reaction in me, even other shows I care about deeply. Something about Doctor Who short circuits my critical faculties, allowing me to sweep aside a story's sometimes considerable faults and just enjoy the parts that work.
As for why this is...well, it helps that, as far as I'm concerned, the show has never cast a bad Doctor. Each actor brings something brilliant to the role - for the classic Doctors, there's William Hartnell's irascible curiosity, Patrick Troughton's ability to cloak an engimatic brilliance behind a playful exterior, Jon Pertwee's righteous swashbuckler, Tom Baker's complete alien lunacy, Peter Davison's quiet but unbreakable decency, Colin Baker's extremely entertaining brand of theatricality, Sylvester McCoy's sense that the entire cosmos rested on his shoulders, and Paul McGann's ability to tap into a more human (no, not half) side of the Doctor on which the new series would later capitalize. If a show's only as good as its leading man, then the show has always been pretty damn good, I'd say. Even if nothing else is working in a story, I can find plenty to enjoy in just spending time with the Doctor.
I'd also like to turn to something Steven Moffat said way back in 1995, in a semi-infamous round table discussion in which he declared the show "laughable" and "actually pretty shabby a lot of the time", and roundly criticized the production teams for trying to do things they didn't have the ability to pull off. (In fairness to him, he's since retracted most of this.) He argued that the underlying concept of Doctor Who was so strong, and that sometimes stories would feature moments or ideas powerful enough in isolation that they could "dupe you into believing the programme was better than it really was."
I think he was actually on the right track here, even if I disagree with how he appraised the show back then. There's something so powerful about the basic idea of Doctor Who, something so simple and yet so vast, that it doesn't matter if the execution falls short of the concept. The Doctor can go anywhere in space and time, and when he gets there, he tries to do the right thing. He's a citizen of the universe, and a gentleman to boot, as the First Doctor once observed in one of many speeches he got that were shockingly well-written.
That's another part of it, I think. Consider "The Dalek Invasion of Earth." Just when you think you've got this show pegged, just when you've decided the pacing is unforgivably slow and the special effects are too awful to watch, the very same instant it drops a horrible narrative contrivance to explain a companion leaving...it hits you with something like this.
There are plenty of problems with "The Dalek Invasion of Earth", some big, some minor, but then it finishes with an eloquent, iconic, perfectly executed moment like that big speech, which William Hartnell performs brilliantly. To me, that's worth wading through some other bits that don't stand up as well. I don't expect this to be a universal reaction, but I suspect I'm not the only person here who loves an old sci-fi show or some other piece of pop culture detritus far more than I ought to. And I'd say that's worth celebrating, even if I'm still at a bit of a loss to explain it.
Plus, Doctor Who has the greatest theme tune(s) ever. That actually might be like 60% of it right there.