With parental controls and "explicit" badges, dirtier songs came to the iTunes Music Store. It's increasingly looking like it's gonna be the same way for apps, with the expanded parental controls in iPhone 3.0.
iLounge reports that the rejection letter for the iPhone app Newspaper(s)—thanks to "objectionable content" since it carries the UK's The Sun, with its boobies-filled Page 3—made reference to iPhone 3.0's upcoming parental controls, and told the developer Makayama that it "would be appropriate to resubmit your application for review once this feature is available."
This seemingly confirms what we suspected: That the new, expanded parental controls which finally cover apps would give way to a more full-featured app ecosystem with mature content, like any other real store—or the iTunes Music Store, which Trent Reznor pointed to when his app was rejected. Currently there isn't a mechanism in place for controlling the sale of explicit app content, like there has been for the music store.
G/O Media may get a commission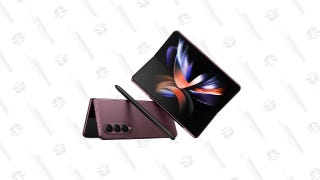 Save Up to $300
Galaxy Z Fold4
Really, though, it was only a matter of time, if for no other reason than Apple's serious gaming push. A real gaming platform, a complete one, needs content that runs the gamut from kiddie to killer. You've gotta have Mature-rated games, the Metal Gears and Mass Effects of the world. (Even Nintendo discovered this eventually.)
So Baby Shaker might not slink back, but an "explicit" badge and real parental controls mean Apple can finally let South Park, The Downward Spiral and other mature content finally come on through, since it can point to the protections it has in place to keep them out of the pockets of kids. Which means parental controls might be iPhone 3.0's secret best feature. [iLounge]