Craiglist's infamous "missed connections" section is a great place to write a love ballad to that special someone you made fleeting eye contact with at the grocery store. Or, you know, that African elephant that was slaughtered by poachers last week.
If you've been seeking a human on Craigslist recently, you might have noticed a surprising number of charismatic megafauna cropping up in your search results. That's because online activism network Avaaz recently launched a campaign to pressure Craigslist into enforcing the website's own ban on the sale of ivory. After signing up for Avaaz's campaign, you'll be directed to a page prompting you to post the following picture to your local Craigslist missed connections section, along with a personalized message:
Those who frequent Craigslist to find computers and futons may not be aware that the site also hosts a flourishing black market ivory trade. In April, a study conducted by the Wildlife Conservation Society (WCS) found that during a one-month period, over 615 ivory items were posted for sale in 28 US cities, with a total estimated value of $1.4 million dollars. Many of these items were listed as antiques, which could make them acceptable under international regulations, but the vast majority came with no documentation whatsoever. It's hard to imagine that all of this ivory is truly antique, given that an estimated 96 elephants are poached every day for their tusks.
After the study was published, Craigslist immediately agreed to add ivory to the site's list of prohibited items. But the website has taken no apparent measures to enforce the ban, and a quick search still turns up many ivory items.
G/O Media may get a commission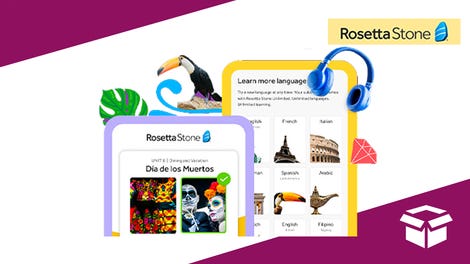 Extra 20% off
Rosetta Stone Lifetime Subscription - All Languages
"When the study was being put together, it was heartening to see they'd [Craigslist] moved on the ivory issue," John Calvelli, WCS's Executive Vice President of public affairs told me over the phone. "I think they were trying to be responsible at that point. Having said that, there are many other things they could be doing."
According to Calvelli, WCS has seen no signs of further movement from Craigslist since April. Joseph Huff-Hannon, a campaign manager at Avaaz, tells me the site has stopped returning the WCS's phone calls and "hasn't given any indication that they plan on doing anything more about the problem."

"We think Craigslist can still play a constructive role, but they clearly need a little more nudging and direct communication from people who use Craigslist," Huff-Hannon told me over the phone.

Hence the recent deluge of missed connections ads asking where all the elephants have gone. This, at least, Craigslist seems to have noticed. The campaign began last week, and the fake ads are now being taken down almost immediately after they're posted.
"They've been very aggressive about taking down these ads," Huff-Hannon told me. "They're not so aggressive about taking down real ivory ads, which we find more than a little ironic."
I've reached out to Craigslist for comment and will update if I hear back.
Huff-Hannon sent me a few screen-grabs of his favorites elephant ads over the last several days:
It's still unclear whether this campaign will spur Craigslist into taking action against illegal wildlife products. But Avaaz seems to have picked a good moment to raise awareness of the issue, given the flood of internet outrage over the killing of #CeciltheLion, and newly announced restrictions on the sale of African ivory in the US.
"I guess my message to Craigslist at this point is that we're here and we want to work with you," Calvelli told me. "I'm hopeful they realize it's not an issue that's going to go away."
[Avaaz h/t Motherboard]
---
Contact the author at maddie.stone@gizmodo.com or follow her on Twitter.

Top image via Benh Lieu Song / Flickr