Sigourney Weaver says Neill Blomkamp's Alien film would provide closure for Ripley. Mark Hamill's not done with the Joker. Doctor Who's post-Moffat era gets a new executive producer. Plus, new details on Legends of Tomorrow's season two premiere, and new footage from Star Trek Beyond. Spoilers Get!
Transformers: The Last Knight
A banner for Michael Bay's fifth Transformers film has received a rather early banner in Time Square, where Optimus Prime faces off against.... well, see for yourself:
Also note the flag, bearing that looks a great deal like the Decepticon logo, but isn't.
G/O Media may get a commission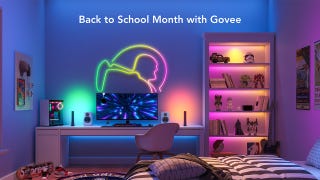 Back to School
Back to School Month with Govee Sale
Megatron has transformed into a dragon mode in a few Transformers stories, beginning back in the Beast Wars cartoon, and he even had a two-headed dragon mode in Robots in Disguise. However, the only robot that's ever also been a three-headed dragon is Scourge in the Transformers: Cybertron cartoon (he's one of the Decepticons on Animatron, the Beast Planet). It may also be worth noting that Optimus Prime fought a dragon in the very first Transformers cartoon when he and a variety of Transformers got sent back in time to King Arthur's court, but that was a regular dragon, not robotic. As always with Michael Bay, who the hell knows?
The film's Instagram account also released a new shot of Laura Haddock on set.
---
Blade Runner 2
Hiam Abbass and David Dastmalchian have joined the cast in undisclosed roles. [Coming Soon]
---
The Nutcracker
Misty Copeland has confirmed she's joined the live-action adaptation.
---
Neill Blomkamp's Alien

Sigourney Weaver continues to discuss Blomkamp's currently on-hiatus Alien film, saying it offers an ending to Ripley as a character:
It's a great story and it's satisfying to me to give this woman an ending… The script itself has so much in it that's so original, but also really satisfies the, I would say, the primal needs of the aliens. It's a tribute to all of the great work that the other directors have done, in a way, but goes in a completely new direction. I hope we'll do it.
[EW]
---
The Killing Joke
Mark Hamill was asked on Twitter if The Killing joke would be his final performance as the Joker. His answer:
---
Star Trek Beyond

Scotty meets Jaylah in a new clip.
Meanwhile, here are two more TV spots.
---
Doctor Who
The BBC has, bizarrely, announced that Misfists alum Matt Strevens will co-executive produce season 11 alongside new showrunner Chris Chibnall over social media—only to then promptly delete the tweet. Strevens has been responding to congratulatory tweets that prove the news is real, but for now, it's not yet been officially announced. Wibbly wobbly, timey wimey, etc.
---
Altered Carbon
Renee Elise Goldsberry has joined the scifi series based on based on Richard Morgan's 2002 novel as Quellcrist Falconer, about "a master strategist, as well as the love of Kovacs' [Joel Kinnaman] life". [The Hollywood Reporter]
---
Supergirl
Here's a new poster for the show. [CBR]
---
The Expanse
Entertainment Weekly has released new pictures from season two—more here.
---
Legends of Tomorrow
Finally, Caity Lotz has confirmed that the season two premiere is called "Out of Time."
---
Additional reporting by Gordon Jackson. Banner art by Jim Cooke.