Director Ruben Fleischer is pretty sure Zombieland 2 isn't happening, but it's not for lack of trying. Bill Pullman says an Independence Day sequel doesn't necessarily need Will Smith. Plus more Catching Fire and Hansel & Gretel: Witch Hunters photos!
It's all spoilers from this point forward!
Top image from Hansel & Gretel: Witch Hunters.
Catching Fire
We already shared a couple of the first official images from the Hunger Games sequel yesterday, but now here's the complete set, from Entertainment Weekly. [/Film]
---
Fantastic Four
Comics writer Mark Millar, who now serves as creative consultant for all of 20th Century Fox's superhero properties, explains why Chronicle director Josh Trank is the perfect choice to helm the new Fantastic Four movie, as well as giving some hints about just what Trank's approach might be:
"From what I've seen and from talking to him – he and I have had dinner a couple of times and we talk quite regularly as well – he's contemporarizing it. I think he's just making it work for the screen – he's a great storyteller. Chronicle, if you think about it, was similar to Fantastic Four in that it was a bunch of people who were transformed into something more than human – that turned out almost his calling card to come and do something like Fantastic Four. What I wasn't expecting actually was just how funny and likable he could make this as well as getting the more awesome moments on screen – I use awesome in the traditional British sense and not the California sense awesome, you know? The Ridley Scott moments, and the Fantastic Four really are jaw-dropping in the same way you feel when you saw Alien for the first time. There's some moments in this – not to be specific – that are actually gonna be phenomenal on screen and stuff you haven't seen in a superhero movie before."
G/O Media may get a commission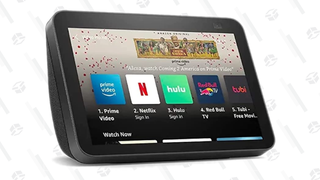 [SciFiNow]
---
Zombieland 2
Director Ruben Fleischer says he still wants to make the Zombieland sequel — or, at least, he's not ready to give up on it completely — but the first pass at a screenplay didn't generate the requisite enthusiasm from the cast and crew, so it's on indefinite hiatus for now:
"Well I think that the studio would be very excited to make it. It's not that the studio is not excited, it's that we took one shot at the script [and] it wasn't something we all got excited to do. And just on a personal level, I was really excited to, having made one movie, to make different movies, not just go back into that world again. But now that I have some distance and I've done some other stuff, I would be more inclined to go back to Zombieland I guess you could say. But at the time when the talk of the sequel was really-when it felt like it was possible-I was really kind of shying away from it just because I've only made one movie, I wanna make different movies with different people and learn different things, and so I was a little hesitant to just jump right back into the same thing... Needless to say [the original script] was a continuation of the original story with the same characters. I guess the only thing I could really say is that the threat to our heroes wasn't only zombies, like they encounter other people that they're all jockeying for positions."
[Collider]
---
Independence Day 2
While most recent comments from Dean Devlin and Roland Emmerich suggest the sequel won't actually materialize, star Bill Pullman says he's still optimistic, regardless of whether even bigger star Will Smith agrees to come back:
"The Will Smith part of it may be ongoing but I think there's strategies for both. I like what I have to do in both of them. I'm not in an old age home in a wheelchair being wheeled out for one more moment. It's a very interesting conception of what happens to Whitmore between then and when it picks back up. Nobody's holding their breath because it's been continually plagued."
He also says his new gig as a different fictional president on the sitcom 1600 Penn wouldn't preclude his involvement in any new Independence Day film. [Crave Online]
---
Hansel & Gretel: Witch Hunters
Here's a couple more promo photos from the gritty fairy tale reimagining, starring The Avengers star Jeremy Renner and Quantum of Solace's Gemma Arterton. There are a couple more at the link. [Shock Till You Drop]
---
Fringe
Here's a trio of sneak peeks for this Friday's episode, "The Boy Must Live."

And here's a bunch of cast interviews in anticipation of the finale.

---
Game of Thrones
Here's the official list from HBO of the writers and directors for the third season, with episode 21 corresponding to the third season premiere and so on:
Ep. 21
Writers: David Benioff & D.B. Weiss
Director: Dan Minahan

Ep. 22
Writer: Vanessa Taylor
Director: Dan Minahan

Ep. 23
Writers: David Benioff & D.B. Weiss
Directors: David Benioff & D.B. Weiss

Ep. 24
Writers: David Benioff & D.B. Weiss
Director: Alex Graves

Ep. 25
Writer: Bryan Cogman
Director: Alex Graves

Ep. 26
Writers: David Benioff & D.B. Weiss
Director: Alik Sakharov

Ep. 27
Writer: George R.R. Martin
Director: Michelle MacLaren

Ep. 28
Writers: David Benioff & D.B. Weiss
Director: Michelle MacLaren

Ep. 29
Writers: David Benioff & D.B. Weiss
Director: David Nutter

Ep. 30
Writers: David Benioff & D.B. Weiss
Director: David Nutter
---
The Walking Dead
Here's a poster advertising the second half of season three, which returns February 10. There's also the latest short description from AMC regarding just what to expect from the rest of the season:
With his group in tatters, his sanity in question, and his own son questioning his every move, Rick (Andrew Lincoln) must somehow pull everyone together to face their greatest challenge — the Governor (David Morrissey). In order to survive, he must risk everything, including the group's very humanity.
---
Once Upon a Time
Here are four sneak peeks for this Sunday's episode, "The Outsider."

Onetime General Hospital star Rena Sofer has reportedly been cast as Snow White's mother Queen Eva, who will appear in flashbacks alongside young Snow White actress Bailee Madison. [TV Guide]
---
Supernatural
Here's a sneak peek at next week's midseason premiere, "Torn and Frayed."

Here's the description for "As Time Goes By", which airs January 30:
SAM AND DEAN MEET THEIR GRANDFATHER - Sam (Jared Padalecki) and Dean (Jensen Ackles) are stunned when a man who claims to be Henry Winchester (guest star Gil McKinney), their grandfather, suddenly appears in their hotel room demanding to know where he can find John Winchester. Henry has time-traveled to stop a demon named Abbadon (guest star Alaina Huffman) and was looking for John's help. Through Henry, Sam and Dean learn more about their father and the Winchester blood line.
[KSiteTV]
Here are brief descriptions for three characters we'll meet in the apparently mythology-themed sixteenth episode, "Remember the Titans":
- Prometheus, the fire-stealing Titan. He's actually now a drifter and goes to Sam and Dean for help
- Haley. Mother of Promerheus's son.
- Zeus, king of Gods. Evil and has an old score to settle with Prometheus
The eighteenth episode will reportedly be called "The Apple Dumpling Gang." [SpoilerTV]
---
Arrow
Here's a sneak peek at next week's midseason premiere, "Burned."

Here's the description for the twelfth episode, "Vertigo":
SETH GABEL ("FRINGE") GUEST STARS WHILE THEA FACES PRISON TIME - Thea (Willa Holland) is in trouble with the police after she gets caught using a drug called "Vertigo." Oliver (Stephen Amell) thinks the only way to keep her out of jail is to find the dealer, a man who goes by the name of "The Count" (guest star Seth Gabel). Oliver turns to McKenna Hall (guest star Janina Gavankar), an old flame and current Vice cop, for help. Meanwhile, Laurel (Katie Cassidy) steps in to defend Thea, and Felicity (guest star Emily Bett Rickards) gives Oliver some disturbing news about Moira (Susanna Thompson).
Episodes thirteen, and fourteen will reportedly be called "Betrayal" and "The Odyssey", respectively. [SpoilerTV]
---
The Vampire Diaries
Here are some promo photos for the midseason premiere and tenth episode overall, "After School Special." [SpoilerTV]
Here's the synopsis for the twelfth episode, "A View to a Kill", which airs January 31:
DANGEROUS LIAISONS - When Rebekah (Claire Holt) turns down Klaus' (Joseph Morgan) plea to stop Kol (Nathaniel Buzolic) and protect Jeremy (Steven R. McQueen), Klaus turns to Stefan (Paul Wesley) for help. After an angry confrontation with her father, Mayor Hopkins (guest star Rick Worthy), over his unconventional approach to ending the violence in Mystic Falls, Bonnie (Kat Graham) has a frightening run-in with Kol, followed by an unexpected visitor. Klaus complicates the already tense feelings between Stefan and Damon (Ian Somerhalder) by revealing a bit of Stefan's personal life, then surprises Damon by asking for personal advice. Elena (Nina Dobrev) tells Stefan about her dangerous plan for Jeremy, leaving Stefan in a difficult spot. When the high school's 1980s Decade Dance is cancelled by Mayor Hopkins, Stefan finds a charming way to make it up to a disappointed Rebekah
[KSiteTV]
---
Being Human (US)
[gallery 5974740] Here are some promo photos for the third season premiere, "It's a Shame About Ray", which kicks things off on January 14. [SpoilerTV]
---
Borealis
Genre mainstay Ty Olsson, who currently plays Benny on Supernatural, discusses his upcoming Canadian science fiction show, which is about an ultimate fighter turned customs officer in the year 2045. Well, that's pretty much the greatest thing I've ever heard, but still, let's go to what he has to say:
The year is 2045 and the ice caps have melted, enabling the discovery of the last oil and gas reserve on the planet....Where else but in the Canadian North. It's a front row seat to the beginning of the end. A future we have all seen coming for years. Borealis is the "gold rush " town that springs up to give ya anything you need. For a price. Introducing Vic Carboneau, ex ultimate fighter turned entrepreneur, hotelier , and Canadian customs officer. You could say he staked his claim first. Problem is. everyone wants a piece of the action. Russia, China and even the crippled US of A are all jockeying to lead the last natural resource rape and pillage. The town "Borealis" and "Vic's tavern" just happens to be right in the middle. Vic is the kind of reluctant hero who just wants to make his money like everyone else, but when one of his friends ends up with his throat cut by the Russian mob, well, that's bad for business... And damn it - this is his town. He built it.

It's the Wild West of the future, and life comes down to one thing: Survival.

Can you tell us more about what your character? What are his big motivations?
Vic is the ultimate reluctant hero. A man with a big heart but without any overpowering sense of duty. It seems the world conspires to pull the truth out of him. An unpleasant money hungry entrepreneur with a heart. It actually allows for a lot of what we find ourselves following along with in his journey. He's a deeply scarred man with a secret. Vic says it's none of his business! But somehow can't help but rectify the wrong. When all he's built and worked for is threatened, along with the life of a friend, we see the real man come out.
There's so, so much more at the link. [SpoilerTV]
---
Beauty and the Beast
Here's the description for the eleventh episode, "On Thin Ice", which airs January 31:
VINCENT'S IDENTITY IS THREATENED - Vincent (Jay Ryan) is torn between his new feelings for Cat (Kristin Kreuk) and his old memories with Alex (guest star Bridget Regan). J.T. (Austin Basis) learns that Evan (Max Brown) is planning to propose a task force to catch the beast and must figure out how to stop him. Meanwhile, Tess (Nina Lisandrello) investigates the mysterious skydiving death of the wife of a billionaire adventurer, while Cat remains off duty until she recovers from being shot.
[KSiteTV]
---
Additional reporting by Amanda Yesilbas and Charlie Jane Anders.