One of the lesser-known side effects of Viagra is blue-tinted vision. How does a pill that's supposed to help men maintain an erection cause them to see the world as too blue? Find out.
Viagra is the trade name of a drug called Sildenafil, a drug originally developed to treat high blood pressure. In certain instances, it's still used that way. Under the trade name Revatio, Sildenafil relaxes the walls of the blood vessels, dilating the vessels, decreasing the resistance to the flow of blood, and bringing down blood pressure. This helps patients with a certain kind of hypertension get out of a Catch-22 situation: increased exercise can bring blood pressure down in the long term, but in the short term it raises blood pressure. A dose of the right medication can help them exercise their way into a healthier state.
But that's not all Sildenafil, or Revatio, or Viagra, can do. Certain people who take the drug will find themselves with cyanopsia - blue tinted vision. They will be understandably confused as to how a medicine meant to increase blood flow to their insides is messing around with their eyes.
Viagra increases blood flow to the penis by relaxing the smooth muscle in the area. It does this by restricting the influence of the enzyme phosphodiesterase 5. This inhibition of the enzyme sets off a complicated sequence of interactions which results in vasodilation, smooth muscle relaxation, and blood flowing more easily in the crotch area.
G/O Media may get a commission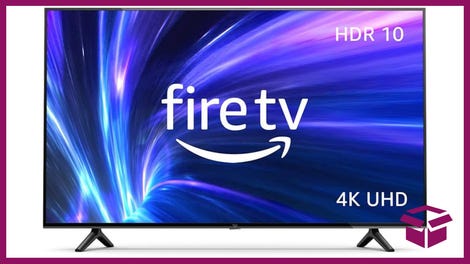 42% Off
Amazon Fire TV 50" 4K Smart TV
Then there's phosphodiesterase 6. As its name implies, it is similar to phosphodiesterase 5, and Sildenafil inhibits both, although it inhibits 5 far more than 6. Phosphodiesterase 6 is an enzyme that, through another complicated sequence of interactions, tamps down on the sensitivity of the rod cells in the eye. By inhibiting the enzyme, the medication makes rod cells become ultrasensitive, and rod cells are most effective at picking up blue-green light. Any increase in sensitivity in the rod cells results in a wash of blue.
So, Viagra makes your world blue because an enzyme that regulates activity in your crotch happens to be very similar to an enzyme that regulates activity in your eyes.
Images: Wellcome Images
[Source: Viagra and Vision, Sildenafil.]