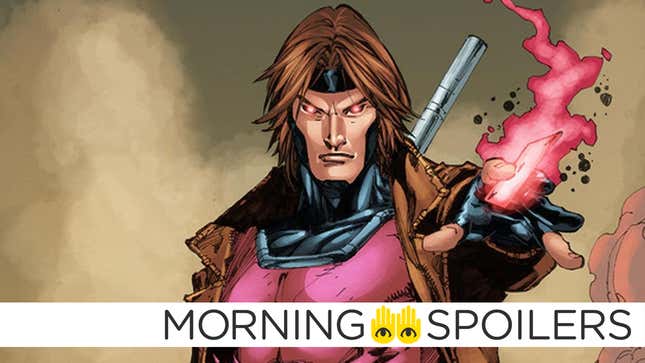 There's even more speculation about yet another superhero showing up in Avengers: Infinity War. A Pirates of the Caribbean director could helm the Maleficent sequel. Supergirl's recruited an animated Justice League icon. Plus, The Flash teases an emotional journey for Wells, and what's to come on The Gifted. To me, my spoilers!

Boogeyman Star Sophie Thatcher Wrote Howl's Moving Castle Fan Fiction | io9 Interview

Gambit
Splash Report claims that the Gambit movie, currently trapped in production limbo, is close to casting Daniel Craig as Nathaniel Essex—best known to X-Men fans by his villainous alter-ego, Mr. Sinister.
According to the site, the movie revolves around Essex recruiting Gambit to steal a mysterious artifact from the Louvre, leading to the smooth-talking Cajun recruiting a team of mutant thieves. Considering the current status of the movie, it's probably best to take all this with a pinch of salt for now.
---
Avengers: Infinity War
And while you're at it, prepare another pinch of salt for this one. IMDB's official Twitter has posted a video stating Spider-Man: Homecoming's Tiffany Espensen will return as Cindy in Infinity War—adding fuel to the rumor that Cindy is actually Cindy Moon, the young woman also bitten by the radioactive spider that turned Peter Parker into Spider-Man and now known as the webslinging superhero Silk.
Considering the frankly alarming number of Marvel heroes already in Infinity War at this point, it seems unlikely that Espensen is going to be suiting up. Presumably, she's back for high school scenes featuring Peter... but you never know?
---
Venom
Variety reports that Jenny Slate is currently in talks to play an unspecified "scientist" in Sony's Venom.
In related news, Variety's Justin Kroll took to Twitter to reveal that 50 Shades of Grey screenwriter Kelly Marcel has been hired to write the latest draft of the Venom spinoff.
---
Maleficent 2
Joachim Rønning (Pirates of the Caribbean: Dead Men Tell No Tales) is the current frontrunner to direct Disney's villain sequel.
[Deadline]
---
Glass
Filming is now underway on M. Night Shyamalan's Unbreakable follow-up.




---
Ghostbusters: Animated Movie
That Hashtag Show claims that Fletcher Moules' forthcoming animated Ghostbusters movie will be told from the perspective of a ghost in New York City.


Supergirl
In an interview with Entertainment Weekly, Andrew Kreisberg revealed that Carl Lumbly—who voiced Martian Manhunter on both Justice League and Justice League Unlimited—will guest-star as J'onn's father in season 3.
Carl Lumbly will be joining as J'onn's father. First of all, he's so amazing. J'onn has always felt like an alien. He spent 300 years on Earth and he's always felt different, and other, and felt people were afraid of him, and has always had to hide who he really was. The irony is he becomes reconnected with his father and his father thinks, 'Oh my God, you've gone so Earth-man.' So for J'onn, it's this realization that he's not quite the alien that he thought he was, and what that means to him, and if we're reconnecting with his Martian heritage, how important is that to him?
---
Arrow
Stephen Amell tells TV Line that, of all of Team Arrow, Oliver is the one most hopeful of convincing Black Siren to turn to good in the next season:
Oliver, ironically—and despite the fact that she allied herself with Adrian Chase—is the most hopeful one. He's like, 'If there's a bit of Laurel in there, I want to find it.'
---
The Flash
Executive producer Andrew Kreisberg promises an emotional journey for Wells in the new season:
We're picking up with Harry. We felt like we managed to pull off three different Wells in three years, and rather than just going and doing another Wells, we definitely felt there was more meat on the bone with Harry. Harry is a genius, and his daughter is safe, and she's the Flash on Earth-3, and he's one of those people who's realizing that he doesn't have a life. So Season 4 for Harry is really realizing what he's missing in his life and what it is he needs to become a better, more complete person.

So he's going to be going on a fairly epic emotional journey this season that is tied to the Thinker's plan, and we're really excited about it. It's probably something a little bit more emotional than we've ever done for that character, but Tom is such a phenomenal actor, we know he'll knock it out of the park. I'll also say that Harry won't be the only Wells we'll see this season.
[EW]
---
Legends of Tomorrow
The Legends, lead by White Canary, must save time itself in the latest poster from the CW.


---
The Gifted
Finally, here's a trailer for the rest of The Gifted's first season.
---
Banner art by Jim Cooke.