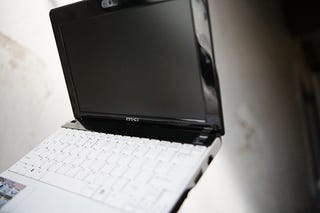 Gadget Lab's Brian Chen spent some time tinkering with an early MSI Wind U120 test unit, the successor to last year's U100, and loves the new design features, specifically the trackpad and build quality.
He says the trackpad is now bigger, and has a grainier feel to it, giving your finger a bit of traction on the pad. The U120 now has a second mouse button, which is a welcome addition, Chen says.
Other things he mentions as improvements, or at least not completely terrible, are the general build quality (sturdier plastic, better vents) and aesthetic design (black screen bezel, more angular). There's not much to report in terms of performance, because it has the exact same hardware as the old Wind, and pretty much runs the same.
But anyways, check out the full post, since there are plenty of pretty pics and more insights over at [Gadget Lab].