Researchers have confirmed that these five wolf pups — born this spring — are the first born wild in California in over 100 years. Along with their mommy and daddy, they form the newly dubbed "Shasta Pack." Wolves now call California home again.
The pups are thought to be four months old and, like their parents, all have black coats. They were capture using motion sensor trail cams in northern California's Siskiyou County, which borders Oregon.
A wolf that was spotted roaming the area earlier this year, following on the heels of OR7, is believed to be their father. He dispersed south from a pack in Oregon's Cascades. OR7 himself — the wolf that was the first to be spotted in California since 1924 and wandered thousands of miles through the state's northern counties — had a litter just north of the border last year.
G/O Media may get a commission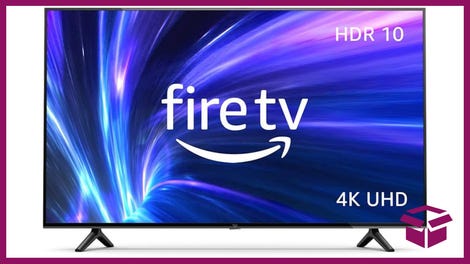 42% Off
Amazon Fire TV 50" 4K Smart TV
Oregon discovered its first breeding pair of wolves in 2008 and, by 2014, had a burgeoning population of 77. DNA tests using scat are being conducted to determine this family's exact origins.
"We knew wolves would eventually return home to the state, and it appears now is the time," states California Fish and Wildlife director Charlton Bonham. "This news is exciting for California."
But, is California ready for wolves? While they're a protected under the Endangered Species Act — killing one is a federal crime — the Wolf Management Plan begun by the state while OR7 was roaming here has languished unfinished. And now local ranchers fear the impact these wolves may have on their livestock.
"If the public wants wolves, maybe they should support the people who are helping feed the wolves," a Siskiyou County rancher told the Sacramento Bee. There are calls for reimbursement program to be put in place now to compensate farmers for potential future losses. The state hopes to have its management plan wrapped and available for public comment by the end of the year.
Are we right to be optimistic about the return of wolves to the state, with only a single pack calling it home? The species was first re-introduced to the American West in 1995, in Yellowstone National Park. There's now close to 1,700 of them living in the Northern Rockies — a stable population.
Karen Kovacs is monitoring wolves for California and plans to fit at least one of the Shasta Pack with a radio collar in order to monitor them. Her thoughts? "These are very resilient critters."
IndefinitelyWild is a new publication about adventure travel in the outdoors, the vehicles and gear that get us there and the people we meet along the way. Follow us on Facebook, Twitter and Instagram.