Satellite radio is dead. The world's first internet car radio, from Blaupunkt and miRoamer delivers thousands of internet stations integrated with a standard AM/FM/CD dash console worthy of KITT.
All of your preferences, providers and searches are customized on miRoamer's site, and you can instantly flip back and forth between internet or terrestrial radio stations in the console. The secret sauce is 3G GSM. Since it's just a plug-n-play SIM, it theoretically means you could get the Australia-based service working in the States on AT&T, once it goes from being built-in equipment to a setup you can buy separately.
Even if it's not available over here immediately, just because it's the first doesn't mean it'll be the only one like this—this is just the beginning of car internet radio, for sure. Plus, I'm pretty sure someone will find a way to hack the 3G to use it tether it to your laptop over the system's built-in Bluetooth (as long as it has the right protocols built-in, anyway).
miRoamer Partners with Blaupunkt to Introduce the World's First Internet Car Radio

Drivers can access largest and most diverse global selection of Internet radio from their car stereo

(Consumer Electronics Show, Las Vegas, NV North Hall Booth #5418 – January 8, 2009) – miRoamer, a global innovator in the Internet radio industry, is announcing a partnership with Blaupunkt, one of the world's leading consumer electronics manufacturers and specialists in car multimedia, at the 2009 Consumer Electronics Show (CES). The partnership will introduce the world's first Internet car radio, giving drivers access to the world's largest and most diverse selection of Internet radio content through their car stereo.

"The beauty of Internet car radio is the customized user experience," said George Parthimos, Founder and CEO, miRoamer. "Today, users want to jump in their car and go – no pulling out third-party devices or plugging in cords to access their music and information. miRoamer's development with Blaupunkt is the first seamless Internet radio solution. Now, with the simple push of a button, users can access AM/FM stations or Internet radio's thousands of music, entertainment, news and talk stations from around the world, all from the same car stereo."

The world's first Internet car radio by Blaupunkt will enable drivers to tune into miRoamer's tens of thousands of radio stations and really feel like they're there. Users' favorite Internet radio stations can be easily chosen via clearly arranged information on a large screen display, enriched by state-of-the art performance in terms of car multimedia and consumer electronics connectivity.

"The move to develop an Internet car radio solution is a new paradigm and a real starting point for in-car digital media," said Robert Demian, Head of Global Sales, miRoamer. "miRoamer was the first and remains the only true digital media platform. By partnering with Blaupunkt, who has always been recognized as the first to introduce new and innovative products to the car audio markets, consumers now have access to all of the great benefits of Internet radio in their car, while experiencing unparalleled sound quality and reliability that is far superior to what they are accustomed."

"Integrating Blaupunkt stereos with miRoamer technology was a logical step in creating a truly multimedia driving experience," said Dr. Gerhard Pitz, Head of Product Center, Car Radio, Blaupunkt. "Drivers will be able to use all the features they're familiar with, such as phone, address book, Bluetooth and navigation, but with the first Internet radio, driven by miRoamer, we are able to offer them the ability to tune into the world."

miRoamer also offers the ability to browse genres or stations and customize preferences, providers and search options online at miroamer.com. The Internet portal also allows users to add media that is not currently offered on miRoamer, by simply providing the URL and adding it to their favorites.

Availability
Blaupunkt Internet car radio stereos, driven by miRoamer, will be rolled out as built-in original equipment. For more information on currently available miRoamer software, content or technology, please contact Robert Demian at +61 401-674-123 or visit www.miroamer.com.

About miRoamer
miRoamer is an Australian-based subsidiary of Mi Media Holdings Limited. Their miRoamer technology is a category-leading software for enhanced Internet radio entertainment, which can be installed in a variety of consumer electronic products, including car radios, smart phones, digital picture frames, and audio-visual equipment from televisions to home stereo systems. Users have access to media content from a common platform, using as many electronic products as they wish. The miRoamer Internet portal allows users to access favorite content providers and stations, as well as customize how they access them. For more information, call 317-806-1900 x120 or visit www.miroamer.com
G/O Media may get a commission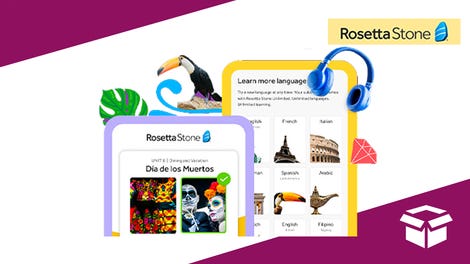 Extra 20% off
Rosetta Stone Lifetime Subscription - All Languages