Rumor has it Ben Affleck's first solo Batman movie will jump off his Suicide Squad appearance. Chiwetel Ejiofor enters negotiations for a major role in Doctor Strange. Production is gearing up for the standalone Star Wars film... plus details on a possible super-weapon showing up in The Force Awakens. Spoilers now!
Top image: X-Men: Days of Future Past
X-Men: Apocalypse
We have our young Storm, Jean Grey, and Cyclops: Alexandra Shipp as Storm, Sophie Turner as Jean Grey, and Tye Sheridan as Cyclops. [Deadline]
Even though we just heard from Oscar Isaac that the costume hasn't been figured out yet, now he's got more details to give out:
It'll be a mix [of practical and digital]. I haven't had a script so I haven't had a chance to look through the script and see what the exact requirements are, but I think it'll be a mixture of physical, aided with some robotic technology.
G/O Media may get a commission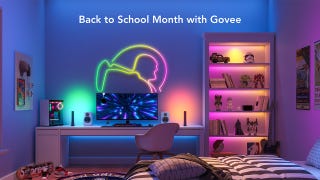 Back to School
Back to School Month with Govee Sale
His Apocalypse will also clearly have some kind of face/head bit, since Isaac says he's about to have his head cast for it:
After we finish here I'm heading to do a head cast [for 'X-Men: Apocalypse'], which they do often. You spend 3-4 hours with them putting plaster all over your head and they get a sense of what your face is like and what shape your head is, so they can start figuring out the costume and the make up and all that stuff, which is pretty fun.
[Yahoo!]
---
Suicide Squad
Here's a rumor that plays on Warner Bros.' attempt to connect all the films: Forbes reports that they've been hearing that Batman will appear in person at the end of the Suicide Squad, with the Joker, as a way of setting up a standalone Batman film. There's been no official announcement of a Batman film from Warner Bros., but it makes some sense that they'd show a confrontation between Batman and his archenemy to tease fans. [Forbes via Slashfilm]
After Tom Hardy left the film, rumor had it that the part of Rick Flagg had been offered to Jake Gyllenhaal. Now sources tell Variety that he's passed on the role, and the studio is still looking for a replacement. [Variety]
---
Star Wars
From Pinewood Studios comes a pile of production rumors about both re-shoots for The Force Awakens and the first standalone movie. For The Force Awakens, it sounds like re-shoots have already started at Pinewood. Crew members have also started hearing about when the standalone film will begin production, and that they all expect more location filming than The Force Awakens, and that a lot of that will be in Mexico.
Bounty hunters are said to be important to the film, which is a persistent rumor, and:
Painters are expected to redress some set pieces from The Force Awakens and there are lots of cost cutting measures like that in place for the first spin-off film. Most of the reshoot materials are to be saved when possible for this reason.
The code name for the standalone film is supposedly "Los Alamos," which was chosen due to its connection to the Manhattan Project. Which Making Star Wars thinks connects to the rumor of the film being about bounty hunters stealing the Death Star plans. Alternatively, it's a reference to the spaghetti western style of the film. [Making Star Wars]
Star Wars 7 News has gotten a hold of what they claim is a display that will appear on a console on the bridge of a Star Destroyer. The image is reminiscent of the one in A New Hope that tracked the approach of the Death Star to Yavin 4. We've heard several rumors about another, brand new, superweapon appearing in the film. Now, they say that it's called "the Catapult," is test-fired, and Leia's on a mission to destroy it. Well, that doesn't sound familiar at all. Below is a recreation of the display, which may or may not show the Catapult. [Star Wars 7 News]
---
Doctor Strange
Marvel is reportedly in early talks with Chiwetel Ejiofor for a major role in the film — some say the villain (likely Baron Mordo) while others have discounted that rumor, leaving Wong or the Ancient One as other likely possibilities. [The Hollywood Reporter via Comic Book Resources]
---
Terminator Genysis
A source told Terminator Fans that the film has a very strict set of cinematography rules, specifically mandating that it match the look of the first two films — especially any future war scenes, which should look as much like James Cameron's as possible. [The Terminator Fans]
---
Patient Zero
Stanley Tucci will play a professor who becomes infected with the violence-inducing disease that is at the center of the film. He'll try to destroy the lab searching for patient zero. [Deadline]
---
Captain America: Civil War
Anthony Mackie talked about what he wants from his appearance in the film:
Listen; you would never meet anybody that doesn't want to hangout with Tony Stark. Tony's the man! I have no idea. I have no idea how they are going to use me. I have no idea how they are going to introduce all of those characters.

... I want my bird, man. I want my bird! The thing is, you know I've been emailing with people over at Marvel. I've putting it out there in the ethos that I'm going to have a new and improved costume and come out all flashy in spandex. So I'm hoping that I get a new and improved costume. That's my whole thing. I've just been saying it, hoping that they'll read it and say, "Alright, we have to give Anthony a new costume." Please, dress me up in spandex!
See the video at the link. [I Am Rogue via Screen Rant]
---
Star Trek
Zachary Quinto says he hasn't even had any conversations with the new director yet:
How does Justin Lin directing the next Star Trek film change things? Is there a different vibe?

Zachary Quinto: I have no idea – I haven't talked to him yet. My mind isn't there yet, but I'm excited to know that they have somebody that they are excited about. And I'm sure they wouldn't choose anybody less than stellar, so I'm excited.
---
Aquaman
So, the film's two scripts (yes, they have two, as a quality control measure) are reportedly both very expensive to shoot, and Warner Bros. is waiting on Karl Urban to be free from his Star Trek commitment so that he can fill some unspecified supporting role. Add to this giant rumor pile the notion that Jeff Nichols (MUD) and Noam Murro (300: Rise of an Empire) are on the short list to direct. [Latino Review]
---
The Divergent Series: Insurgent
Below are some character posters from Insurgent. And go to the link to see them all as motion posters. [Entertainment Weekly]
---
The Vampire Diaries
Executive producer Caroline Dries talked a lot about the merge and how it plays into the show:
I would say mythology wise, the merge, we've gotten to know this Gemini coven. I'm just so proud of this storyline. It's the first time we've had one mythology overarching the entire season. It's so helpful to the writers and the fans when things aren't confusing with different mythologies intertwining. ... I will say that there will be a merge and there will be a death and it will be heartbreaking and awful and exciting at the same time.

There's the question between which set of twins will merge, how much of a role does their father's return play?

The father will be coming back. He's adamant that Liv and Luke were created to do this merge and he's more of a staunch follower of the Gemini rule book. So their job will be to try and convince their dad, "Hey, what if we didn't merge and Jo and Kai merged." That's an uphill battle for them, but yeah, we'll be seeing him again.
She also talked about the biggest threats remaining in the season:
Kai is the biggest supernatural threat and I would say cancer is actually the biggest threat of the season. That's why we were kind of excited to tell this story finally is because it feels like in Season 6 now, we've explored so many different supernatural, crazy things, that this reality is the scariest thing of all.
[Buddy TV]
Paul Wesley explained what Stefan's focus is going to be:
In a weird way, his main focus is Caroline. That's sort of been his M.O. lately. She's sort of a huge part of his life now as a friend. Stefan and Elena were so inseparable, bonded, etc., and Caroline and Stefan are now sort of the duo. Everything he does revolves around Caroline at this point.
[TV Line]
---
Arrow
David Ramsey talked about how much more of Diggle we'll be seeing with Oliver currently MIA:
We'll get into more of Diggle's backstory, in terms of his relationship with Andy, the brother he lost. His hunt for Deadshot and his pure hatred for Deadshot was because he is the man who killed his brother. Oliver fills that void. Oliver is the brother he can save. And now, he can't and he didn't. So, you're gonna see what that does to Diggle, specifically, and where that takes him, emotionally.
He also got into how Diggle feels about Laurel as Black Canary:
In terms of what Diggle feels about it, Diggle is a soldier, so he realizes that getting a civilian that's on a mission – and that's how he sees Canary – isn't good, logistically. It's not a good idea. That's the way he approaches it, just purely militaristically. It's not smart. But, he gets on board because she's passionate and she's training. She becomes a formidable ally in the field, and he recognizes that. Me, personally, having seen her don the outfit, I was jazzed about it. I was just like, "Wow!" I didn't know what to expect. I was like, "Katie is now Black Canary? How's that going to be?" I didn't know what to expect, good or bad. But watching her in it and watching her take on that superhero persona, she's been awesome.
[Collider]
---
Static Shock
Denys Cowan and Reginald talked about where they are with the live-action series and where it will go:
Reginald Hudlin: We're working out our deal , pretty excited about all this, and then, we get this random call from Blue Ribbon — the division of Warner Bros. "Hey, we want to do a live-action Static. What do you think?" Uh, yeah! "But we want to do this deal super-quick. We want to announce our division, we want this to be sort of the prime driver — we have a lot of exciting properties, but this is the most exciting thing."

Denys Cowan: Part of us were like, "OK, yeah, right. I'm sure you want to make this your prime thing." But OK, we'll take the meeting. So we took the meeting, and Sam Register was very excited about it, and quite serious, and they made the announcement. Big picture of Static Shock. They used Static Shock to announce Blue Ribbon, basically. That's when we knew they were very serious, because they could have picked anything. They could have picked Flash, they could have picked Superman, but they didn't do that.

Hudlin: Every meeting we've had with Sam Register and the folks at Blue Ribbon has been bigger and better. We're so in love with each other — we're having so much fun on this property. Denys, of course, had already done tons of brainstorming of what we thought it could be.

Cowan: Reggie pitched them a story, and they loved it.

Hudlin: They said, "OK, don't start writing yet..." So I started writing. [Laughs] Everyone's been just so fired up and so supportive and so enthusiastic. It's just a great process. It's literally the most exciting thing I'm working on right now. It feels like some sort of weird summation of everything. Everyone who hears about it, they're like, "That's the thing."

It's weird, because so much of it comes from what Static is as a concept. It's amazing, because Static as an idea is more timely than ever. Part of it is just how history moves. But in terms of social relevance and who he is and what he represents, it's perfect. You've got these fans who grew up reading the comic book when they were 10 or 12, now they're young adults, they've got kids. It's a project that's very much on the fast track. I don't have a timetable for you, I don't have any real details about it, but it's moving very quickly, and literally everyone who's in the room loses their mind. That's what's so crazy! No one doesn't get it. Everyone goes, "Oh, yes. That!" It's really been a fantastic experience.
---
Gotham
Ben McKenzie talked about Gordon's new challenges and his relationships with the other characters:
Up to now, we've focused primarily on the corruption that surrounds the GCPD: Falcone and Maroni and their ties to the mayor and what not. This second half will get into the corruption actually within the system of the GCPD. How it's actually infected the core of the police department, and what the consequences are for that. When Jim discovers the really heinous corruption at the center of it, what is he going to do to try to uproot that, and what are the consequences of attacking the most pernicious element of it head-on? He'll have to use the things that he's learned in order to get what he wants.

How are some of his relationships with the characters we've met in the front half of the season evolving in the back end?

Well, here's a guy like Penguin, who he would have almost literally spit on at the beginning. He's learning that this little rascal has value. That if he can help get things done, then maybe he should be used. He's certainly learning not to trust anybody. He's learning that he can seemingly trust Bullock — perhaps not as much as he thinks. But seemingly, he can trust his partner. And he can find solace with new friends like Dr. Thompkins and some of the other detectives, like Montoya and Allen.
---
Grimm
Silas Weir Mitchell explained what Monroe is thinking as he's a target of a hate group:
Other than fear of death, [he's considering] the ludicrous nature of these hate groups and how far they go in their hatred and racism. Underneath Monroe's fear is the sense of how pathetic these types of groups and these types of people are — almost an incredulousness about the lengths these people go to to dress up their sicknesses.

... I think it will [change him]. It's the kind of thing where, if anything, it solidifies my belief in the right way versus the wrong way to live. And I have a very strong sense of the right way and the wrong way to live; that's something that Monroe and Rosalee share.
[TV Line]
---
The Walking Dead
Below are photos from episode 5.09. [SpoilerTV]
---
Person of Interest
Here's the synopsis of episode 4.14:
THE MACHINE SENDS FINCH ON HIS TOUGHEST ASSIGNMENT YET: JURY DUTY, ON "PERSON OF INTEREST," TUESDAY, FEB. 10

"Guilty" – When the Machine arranges for Finch to sit on the jury of a murder trial, he begins to suspect that a fellow juror is set to rig the proceedings. Meanwhile, Reese begins to open up to the department's therapist, on PERSON OF INTEREST, Tuesday, Feb. 10 (10:01-11:00 PM, ET/PT) on the CBS Television Network.

CHEAT TWEET: Finch has survived HR, Vigilance & Samaritan, but can he deal with jury duty? PersonOfInterest 2/10 10:01pm http://bit.ly/1yTUoeZ

REGULAR CAST:

Jim Caviezel (John Reese)

Michael Emerson (Harold Finch)

Kevin Chapman (Lionel Fusco)

Sarah Shahi (Sameen Shaw)

Amy Acker (Root)

RECURRING CAST:

Paige Turco (Zoe Morgan)

Wrenn Schmidt (Iris)

GUEST CAST:

Blair Brown (Emma)

Pedro Carmo (Chad Bryson)

Bryan Terrell Clark (Tim)

Jamie Carroll (Lana)

Massiel Mordan (Mikki)

Samuel Ray Gates (Yates)

Tina Benko (Cobb)

Lillias White (Judge Reginald)

Rich Topol (Phillip Ward)

Paul Niebanck (Dean Reston)

Brian Berrebbi (Juror With Cellphone)

Erica Fae (Jen)

Amanda Rising (Caroline Mills)

Rich Duva (Court Officer)

David Lavine (Asinine Pundit)

Mia Caress (Reporter)

WRITTEN BY: David Slack

DIRECTED BY: Kate Woods
Go here for photos from episode 4.13, "M.I.A." [SpoilerTV]
---
Supernatural
Go here for more photos from episode 10.11, "Dean vs. Charlie." [Buddy TV]
---
The Originals
Here are the promotional photos from episode 2.11, "Brotherhood of the Damned," and here for the ones for 2.12, "Sanctuary." [SpoilerTV]
Go to the link for more photos from Marcel's WWI flashback, which'll be in Monday's episode. [Entertainment Weekly]
---
Sleepy Hollow
Go here for more photos from episode 2.16, "What Lies Beneath." [SpoilerTV]
---
Additional reporting by Charlie Jane Anders and Diana Biller