Chris Evans ponders his future as Captain America. Disney plans dates for its stable of fairytale adaptations. Sophie Turner talks Sansa's journey on Game of Thrones. Plus, new pictures from Alien Covenant and A Series of Unfortunate Events, and more Blade Runner 2 casting. Spoilers get!
X-Men: Apocalypse
Director Bryan Singer says there's much more to Wolverine's recently revealed cameo in the movie than just his brief appearance:
Make of that what you want. I will say, it's not simple. There's something more pivotal that occurs with that. It hints to a sequence that again fits within the canon of all six movies, and the birth of a new direction. It's not insignificant, nor is it simply just a throw-in.
[Empire]
---
Blade Runner 2
Sylvia Hoeks has apparently joined the film in a major, but undisclosed, lead role. [The Wrap]
G/O Media may get a commission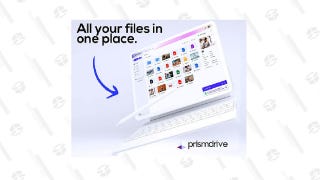 Save 97%
Prism Drive Secure Cloud Storage: Lifetime Subscription
---
Arcadia
Darren Lemke will write the script for this upcoming thriller set in a post-apocalyptic clone society. [Tracking Board]
---
Jungle Book 2/Maleficent 2
Disney has staked out a series of release dates believed to be for its live-action fairy tale adaptations. According to The Hollywood Reporter, the dates (July 28, 2017, April 6, 2018, August 3, 2018, November 2, 2018 December 25, 2018, November 8, 2019, and December 20, 2019) are for Jungle Book 2, Maleficent 2, Cruella, A Wrinkle in Time, Jungle Cruise, Dumbo, and unnamed Tinkerbell and Mary Poppins films.
---
Captain America: Civil War
Chris Evans discusses his future in the Captain America role:
There is no re-upping yet. I was just saying in my last interview that it's so funny thinking about how fast time has moved. We started this in 2010 and six years (snaps finger) has gone in a blink of an eye. In the beginning, it was so terrifying and now you're almost scared to ... I'm scared to walk away. I'm scared to not have one of these (Marvel movie) coming. These past six years there's always been, 'Next year we start that one.' And it's been wonderful, especially because the movies are so good. When you make good movies, who wants to stop doing that? So, I don't know. We'll see.

I know in the comic books that the shield gets passed off. And what you do know, more than anything else in this process — meeting fans, experiencing these junkets and people who love the character — the character is bigger than you and whatever the character needs, whatever Marvel needs for that arc, I'm willing to do. So if that is me passing it off, you pass it off. But if they want to make more, I'm ready.
[Collider]
Meanwhile, Jeremy Renner jokes about the "real" reason Hawkeye joins the conflict:
I think it's a good idea but maybe in practicality, not so much. I think golf got a little boring for him. He had to repay a debt to Scarlet Witch and Cap called in need. So, he had to come out retirement.
---
Alien: Covenant
What appears to be the first image from the film, of a spacesuit's mission patch, has been released as part of the "Alien Day" celebrations yesterday.
---
Game of Thrones
Sophie Turner teases Sansa's journey in season six:
It's about her going to people and trying to get them to listen to her, and showing them that she's not just a stupid young girl anymore. She's been through it all and she's come out the other side with vast amounts of knowledge. She knows how to manipulate and she knows the politics — she's had a front seat for this kind of thing from the moment she was a prisoner for the Lannisters. She's watched Cersei and Margaery and Littlefinger and Tyrion, and she's learned from all of them. Now she knows how to play the game.
---
The Flash
Andrew Kreisberg teases how Cisco will develop his powers over the rest of the season:
I think he feels like he's emotionally in a good place. We'll see a few Spider-Man moments, where he's trying to make it happen and it's not happening how he wants it to. There are a few more technical issues and glitches coming up this season, but emotionally, he's okay with taking those fledgling steps. It's really important for us, especially with Cisco, to honor his powers and honor them growing and honor the Vibe of it all while also keeping him Cisco. That's the balance that we're trying to strike.
[Collider]
Meanwhile, a gallery of images from "Rupture" have been released—more at the link. [Spoiler TV]
---
Outlander
Here's some promo pictures from "La Dame Blanche"—as usual, more at the link. [Spoiler TV]
---
A Series of Unfortunate Events
Finally, images of Neil Patrick Harris in his Lemony Snicket prosthetics on the set of the Netflix adaptation have hit the web.
---
Additional reporting by Gordon Jackson and Charlie Jane Anders. Banner Art by Jim Cooke.

Image: X-Men: Apocalypse.