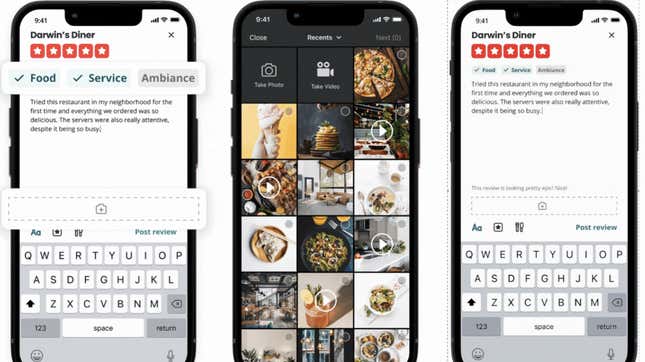 Yelp reviewers will finally be able to add videos to their posts, creating a new opportunity to fully share their experience and atmosphere. The company announced the newest feature will be available for the majority of iOS users on Tuesday and will be made available on Android devices in the coming months.
Making the Facebook Papers Public
The company said in a press release that short-form videos can be uploaded in high-resolution on iOS and Android alongside their review text and photos. Each video lasts a maximum of 12 seconds and can provide other users with documented footage of "a tableside preparation or the unique vibe of the restaurant," the release said.
The company is always looking for ways to improve the user experience, Yelp's vice president of consumer product, Akhil Kuduvalli Ramesh, said in an emailed statement to Gizmodo. Yelp conducted its own research into what users want on the platform, and Kuduvalli said it showed "that consumers find short-form video content especially helpful when discovering local businesses on Yelp."
He continued, "By adding the ability to add a video directly to a review, we're helping contributors share richer, more visual content from their experience at the business, as well as allowing consumers to get a better sense of a business before visiting."
Alongside the new video feature, Yelp announced it is also rolling out a new satisfaction guarantee program, Yelp Guaranteed. Plus, it is using AI to provide insights on local businesses, more detailed reviews, and help users quickly find the "right business for their needs."
The company will also introduce a "Surprise Me" button on the app which will suggest a highly rated place to eat near you. This feature is currently available on iOS and will be rolled out to Android users in the coming months.
Yelp's AI-driven features come at a time when online apps and outlets are incorporating an increasing amount of artificial intelligence tools onto their platforms.
"At Yelp, we're always innovating on ways for consumers and businesses to connect in more seamless and meaningful ways," Craig Saldanha, chief product officer at Yelp, said in the press release. "Millions of people rely on Yelp to make important spending decisions with local businesses, and their trust is at the center of everything we do.
"With the new updates we're announcing today, we want to help consumers more easily discover businesses that meet their needs in a way that is both precise and personal, as well as give our users more engaging ways to share their experiences with the community."
Updated 4/25/2023 3:13 p.m ET to include a statement from Akhil Kuduvalli Ramesh.