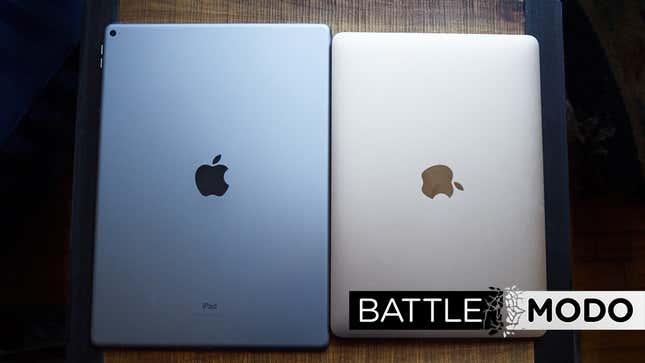 Just because Apple drove a nail into the MacBook Air's coffin doesn't mean you have to give up your dream of owning an Apple computer for $1,300 or less. While the new MacBook Pros start out at $1,500—and can hit prices as high as $4000—the MacBook and iPad Pro both start out around $1,300. So if you're really hankering for the Apple experience, then one of these two is your best cheap bet. But which one?
Caleb McLaughlin Wants to Play Static Shock
They're both tiny, have great battery life, and cost less than any other Apple computer. But they also both have processors that struggle on big tasks. The MacBook veers more towards professionals due to running macOS, while the iPad seems better for people who just want to watch a movie, crank out a paper, or do some drawing.
To figure out which reigns supreme, I've spent the last four months almost exclusively using Apple's two cheapest big computational devices. I've edited photos, created gifs, produced sweet blogs, and even proofread a novel on nothing but the iPad Pro and MacBook. Here's what I learned.
For the person who needs to write
The MacBook's keyboard sucks. In an effort to mimic a higher quality keyboard, the keys are super loud, and typing feels mushy. The key travel is under 1mm and so short that a single crumb under a key can keep the key from being depressed. That makes typing a nightmare.
The keyboard on the iPad Pro is much more pleasant—though the plopping noise it makes every time you type can take some getting used to. But once you get over the noise, you'll soon find yourself blazing through 70,000 text documents with ease. And if you really hate the iPad Pro keyboard, you can always return it and buy third party. (With the MacBook you're stuck with the stock keyboard.)
The iPad Pro is also better for reducing writing distractions. There are so many apps available for Windows and macOS that "streamline" writing and make it "distraction free," but that feature is built directly into iOS, which puts every writing app into full screen mode. E-mail, work messages, and texts from friends are easier to ignore when writing on an iPad, and the switch from one app to another is just pronounced enough that I can fight the urge to check on my Facebook or scroll through a hundred blogs on Tumblr.
Winner: iPad Pro
---
For the person who needs to make art and spreadsheets
Word processing on the iPad Pro isn't all sunshine and lollipops. Word and Excel are both underpowered iOS Word doesn't track changes quite right and chokes on huge 200-page documents that can sometimes have thousands of minor and major changes and notes.
Even worse than the track changes problem is the macro problem. You can't use macros on the iOS version of Excel and Word. For a power user, that's sort of like lopping off an arm.
Power users will also feel hampered by the pro-image editing and creating software available on the iPad Pro. Beyond hand-drawn art the iPad struggles. Video editing is a joke, and while Adobe might have have a lot of cool products, I counted seven different Adobe apps you have to download just to approach the functionality of Photoshop and Illustrator.

The MacBook fares a little better because it can run the full versions of Photoshop and Illustrator. But it also has an Intel Core m7 processor which is a lot like the A9X found in the iPad Pro. It's meant for single tasks, not multitasks. So having Chrome, Photoshop, and a handful of other apps open can slow the laptop down. Not enough to make work impossible, but juuuust enough to make it excruciatingly tedious.
If you're an artist the iPad Pro is still the better bet. There are a lot of other apps (like Paper) that work with the iPad, and the Apple Pencil is hands down the best tablet art utensil available. If you're a photographer, a Word or Excel master, or just someone who wants flexibility, veer towards the MacBook.
Winner: Draw
---
For the person who needs to watch movies or game
MacOS is terrible for gaming. It always has been, and it probably always will be. Meanwhile iOS is great for gaming! There's an enormous library of games built with the hardware in mind, and they all run perfectly.
Surprisingly, the few games I tested that are available on both platforms also run identically on both platforms. I tried Telltale's The Walking Dead and Game of Thrones on both devices and measured the frame rate, using Gamebench on the iPad and Count It on the Macbook. Both ran at 30 fps on title screens and between 59 fps and 60 fps when in the middle of the actual game.
The MacBook can theoretically run more powerful games from AAA developers—like Civilization VI—but that Intel Core m7 processor chokes. Badly. The computer would freeze from the processing demands, and I'd have to force quit. If gaming is your focus just go ahead and embrace the iPad Pro.

Also embrace the iPad Pro if you're planning on watching movies or reading books. iOS has apps for nearly every major video player out there, and it even allows you to multitask. So you can turn on Netflix, shrink it so it runs in the corner, and then browse the internet until your heart's content. You can mimic the same experience on a MacBook, but the MacBook just has a 12-inch 2304 x 1440 display. The iPad Pro's 12.9-inch 2732 x 2048 really shines during movie time.
The screen also shines when reading books or comics thanks to its ability to switch between portrait and landscape modes as well as the ability detach the keyboard. This way, you can get up close to the screen and really peer.
Winner: iPad Pro

---
For the Person Who Needs Battery Life
I was convinced the iPad Pro would school the MacBook when they went head-to-head on battery life. I set both devices to the same brightness (200 nits), connected them to the same router, and loaded up the exact same playlist on Plex.
Then I hit play and went to bed.

When I woke up the next morning both were still going strong. Then, the iPad died. I blogged. Took a shower. Ate breakfast. Came back, and the Macbook was still chugging along. It lasted over an hour-and-a-half longer than the iPad Pro.
The devil's in the details. While both devices are rocking high resolution displays, the 12.9 inch iPad Pro's display is larger and has a higher resolution . That additional screen real estate on the iPad draws additional juice.
Winner: MacBook
---
The Champion
The MacBook and iPad Pro are Apple's cheapest computers, but both demand compromises. They're about specializing. The MacBook is good for professionals who need battery life, flexibility, and all their pro apps. The iPad is better for artists, writers, and the consumers of movies and books. Neither quite replicates the experience of the other and both are considerably hamstrung versus the more powerful (and expensive) MacBook Pro.
Things could change next year. If the MacBook were to get a Kaby Lake processor upgrade, you'd see an improvement in speed that's significant enough to make it a real contender for every day laptop, and if Adobe and Microsoft ever reevaluate their software on iOS than the iPad Pro could finally rival real laptops as Tim Cook intended.
Winner: Draw