When comic author Mark Andrew Smith (The Amazing Joy Buzzards) and artist James Stokoe (Orc Stain) completed their "minor league baseball team versus unspeakable cosmic horrors" graphic novel Sullivan's Sluggers, something downright criminal happened — barely any comic stores ordered the book.
Undaunted, the duo turned to Kickstarter to properly publish this grotesquely gorgeous 200-page graphic novel, which reads like a 1950s horror comic doused in whiskey, yet-to-be-invented psychedelics, and the ashes of Honus Wagner.
Since the campaign began this morning, Smith and Stokoe have hit half of their goal. We at io9 are proud to present the first sixteen pages of Sullivan's Sluggers. If you enjoy monster insanity in any way, this is your huckleberry.
Here's the synopsis, a preview, and our interview with Smith about this project. Plus, here's the link to their Kickstarter campaign if you like what you read.
Long past their former glory, the minor league Sluggers get an invitation to play a baseball game in a cursed small town. After the 7th inning stretch, the sun goes down, and the dysfunctional teammates find themselves fighting for their lives against a town of flesh-eating monsters!

Now, it's up to coach Casey Sullivan to help his team escape from being the next dish in the town's terrifying feeding frenzy!
G/O Media may get a commission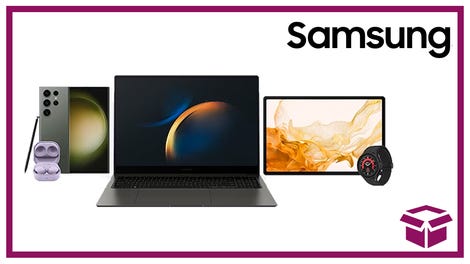 24 hour deals
Discover Samsung - Daily Deal
---
Why mix minor league baseball with nightmarish survival horror?
Mark Andrew Smith: Baseball and horror are two things that go great together like chocolate and peanut butter. I've always been a fan of baseball and also a fan of horror books, and so bringing the two together in Sullivan's Sluggers to me, was a very natural thing to do.
How did the illustrious James Stokoe come on board for Sullivan's?
I'd seen some pages of his online and asked him to contribute for the Popgun anthologies. My friend Joe Keatinge recommended him for Sullivan's Sluggers, and a light bulb clicked on in my head. I emailed James and we got to work.
When did you decide to go with Kickstarter for this project?
This year. Sullivan's Sluggers was due out a while ago. I think because it is a self-contained story that it's a great project to put on Kickstarter to see how far we can take it.
Any advice for other comic creators who may be looking toward Kickstarter as an option?
Support other creators and their projects, even if it's a [Facebook] share or a tweet, because it will be your time to go soon. Kickstarter is the other distribution system that's direct from creators to readers, and that's very empowering. In recent months, the support for projects has been astonishing.
Any other projects percolating besides Sullivan's at the moment?
I'm in "finishing mode" right now on a lot of projects that have been in the works for a long time. I want to start a couple of new projects very soon. I have a prequel of The Amazing Joy Buzzards that's a guest volume of one of their hinted-at adventures in later books.
I'd like to do that in color as a nice presentation because it's been in the works for a long time. Also, more Gladstone's School for World Conquerors and more New Brighton Archeological Society this year.
For more information on Sullivan's Sluggers, click here.