Slowly but surely, smartwatches are becoming more useful. And this might be one of the most useful feature for a smartwatch yet: Google just announced it's bringing Google Translate to Android Wear watches, letting you carry on a bilingual converation with a literal flick of the wrist.
It's part of a new Android Wear update, rolling out today and over the coming weeks, that also brings awesome new interactive watchfaces to the platform. You'll soon be able to tap on a watch face to access data like unread email, your step count, and weather forecasts, depending which watch face you choose. The one at left is called Bits, and you can see a couple other examples at this Google's blog post.
But that's all stuff you could have done with smartwatches already—it just makes it a little more fun and accessible. If you ask me, the bigger deal here is Google Translate, which puts something new on your wrist, something that might make more sense there anyhow: if you're trying to talk to someone who speaks another language, do you really want to have to fish around in a pocket and whip out a phone? And unlike Microsoft Translator, which also works on watches, this one's built right into Android Wear. It won't require an app download.
G/O Media may get a commission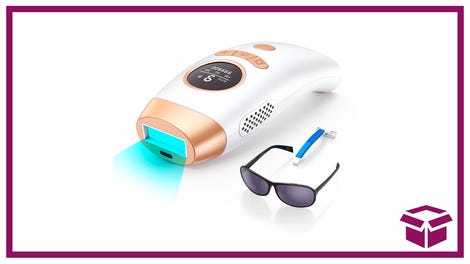 58% Off + Coupon
IPL Hair Removal Device
It looks super easy: just tap, talk, and flip your wrist towards the person you're talking to to show them a translation of what you've said, then flip back your wrist after they say their piece to get a translation of their answer. "Google Translate will automatically recognize which of the two languages is being spoken, so once you tap to start the conversation, all you and your buddy need to do is keep talking naturally," says Google. It supports 44 lanuages right now.
Here's hoping it works well! I'm eagerly awaiting the moment my Android watch notifies me that the new Android Wear update is ready for download.
Also of note: the LG G Watch R is getting Wi-Fi support in this latest release. And if you want to build some interactive watch faces for Android Wear, here's the developer link you need.
---
Contact the author at sean.hollister@gizmodo.com.