The Final Frontier is about to get a lot cuddlier—and this is coming from a world where swaths of reproducing fluff balls exist. Perfect World and Cryptic Studios has announced that they're adding Star Trek: Discovery's beloved Ripper the Tardigrade to Star Trek Online's Age of Discovery expansion.

The studio recently revealed a new expansion for Star Trek Online called Age of Discovery, which will tell stories set in the Star Trek: Discovery storyline. Cadet Sylvia Tilly, along with her Mirror Universe doppelgänger, is coming along for the ride—along with Commander Landry (Battlestar Galactica's Rekha Sharma), whose addition to the game was revealed at Star Trek Las Vegas. According to Trek Movie, Landry's origin story will be explored during the expansion's storyline.
"Landry has a special distinction…that she's probably the hardest Starfleet officer we've ever met," Sharma said during a panel at STLV. "I would love to know more about her origin story because I think there's probably an amazing journey there."
But enough about that, let's talk about tardigrades! Discovery may have been a bit of a mixed bag, but it also gave us Ripper, a giant space tardigrade who could do no wrong. Perfect World and Cryptic Studios has confirmed that Ripper is indeed being added to Age of Discovery, because sometimes the universe deserves to have good things. Here's an early rendition of the character.
G/O Media may get a commission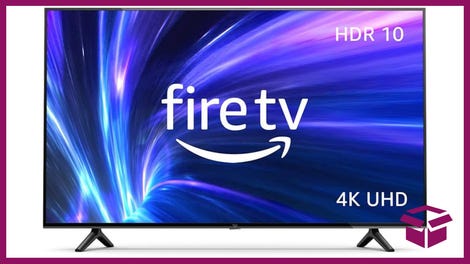 42% Off
Amazon Fire TV 50" 4K Smart TV
The creators didn't say whether Ripper will be a playable character, a companion, or something else entirely (I'm hoping he won't be a spore drive—the series better have learned its lesson the first time around). There's also no word whether he'll be in the expansion's first installment or added later on. I'm guessing he'll be there right away, or at least that's what I'm hoping. Time waits for no tardigrade!
Age of Discovery's first installment is coming to PC this fall, and will be added to the PS4 and Xbox One versions at a later date.