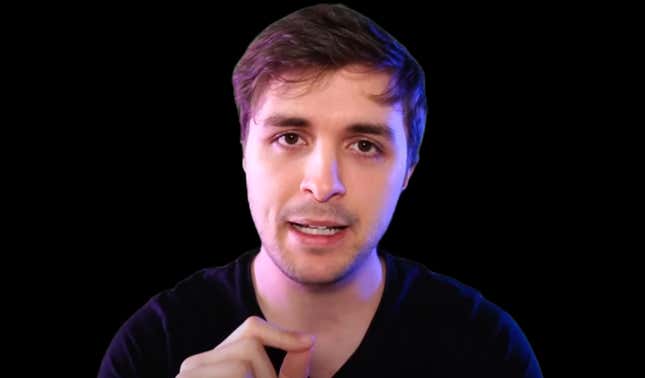 A judge declared a YouTuber guilty of defaming his ex-girlfriend's father and issued a punishment unheard of until now, ordering the influencer to read his sentence weekly on his channel for a month. Dalas Review will also have to pay his former partner's father nearly $13,000 in damages.
Google's Antitrust Case Is the Best Thing That Ever Happened to AI
The peculiar sentence is the latest development in the public fight between Dalas Review, legal name Daniel Santomé, and his ex-girlfriend, the streamer Miare's Project, legal name María Rubio. According to Spanish outlet elDiario, which first reported on the sentence, Santomé had taken aim at Rubio's father in the couple's spat, calling the man an "abuser," "an aggressor that's full of shit," and a "sick coward who's messed up in the head" on his YouTube channel. At one point, Santomé stated that Rubio's father "likes to hit defenseless women on the street."
In total, Santomé published nine videos insulting Rubio's father, whose name has not been revealed in local reports. Santomé is an established voice in the Spanish streaming scene and has been active for more than a decade. He has more than 10 million followers on YouTube.
Santomé's prominence in the streaming world played a role in the judge's decision, elDiario reported. The judge stated that, because Santomé had "social relevance" and was followed by "thousands of adolescents," his insults take on a degree of importance. The judge also disagreed that the YouTuber's comments were protected freedom of speech.
"[It's] hard to believe that anyone with an average level of intelligence could think that by using freedom of speech as an excuse they could say all of these insults, which are recognized as insults by the RAE [Royal Spanish Academy, the language's governing body], freely on social media and believe that the target won't feel attacked and that the system won't respond," the judge wrote.
Besides reading his sentence and paying $13,000 in damages, the judge ordered Santomé to delete the nine videos where he insults his ex-girlfriend's father. In addition, the judge specifically highlighted the YouTuber's statement that Rubio's father was an "abuser" and said such false accusations can't be made today, especially considering the government's efforts to stop violence against women.
In a statement on Twitter responding to the judge's sentence last week, Santomé continued to state that his girlfriend's father had hit her and called the sentence an "injustice."
"Imagine that they hit your girlfriend in front of you, that they steal your dog, that they harass you for years, and when you use with BAD WORDS in your response to this guy, they sentence you to pay $ 'because you're a public figure,'" the YouTuber tweeted in Spanish. "This is the injustice that I have to put up with today."
In a video, Santomé accused his ex-girlfriend and her family of exploiting the case for attention. He said he would appeal the ruling and asked his fans for help paying his legal costs. This isn't the first time Santomé has had been caught in legal troubles, though. In 2018, he was acquitted over claims he sexually abused a fan who was a minor over lack of evidence.
Rubio, for her part, celebrated the judge's sentence. "We won another one," she said on Twitter. "To all the creators who have received insults and been harassed by this person or other toxic people, I want to say: It's time to stop putting your head down and being scared of them, damn it. Be brave like my family has been. And you're welcome for paving the way."