We'll be seeing a lot of strange versions of L. Frank Baum's Wizard of Oz this year, including Sam Raimi's Oz: The Great and Powerful, and possibly the long-delayed Dorothy of Oz movie with the voice of Patrick Stewart. But these might just be the strangest visions of Oz you'll see for quite some time.
Anthology editor extraordinaire John Joseph Adams has co-edited a new book of weird Oz stories called Oz Reimagined with Douglas Cohen, which comes out on Feb. 26. But also, all 15 of the stories are available as Kindle singles. Which means each story has its own lush, weird cover art. Here's an exclusive look at high-res versions of all 16 covers.
G/O Media may get a commission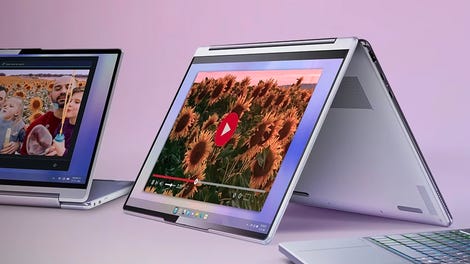 up to 70% off
Lenovo Spring Clearance
The Great Zeppelin Heist of Oz-Rae Carson & C.C. Finlay
The Wizard comes to Oz and seeks to stack the deck in his favor.
Emeralds to Emeralds, Dust to Dust-Seanan McGuire
Dorothy Gale is grown up, bitter, and still living in Oz. And now she has a murder to solve-assuming Ozma will stop interfering with her life long enough to let her do her job.
Lost Girls of Oz-Theodora Goss
Sometimes staying in Oz really is better than going home
The Boy Detective of Oz: An Otherland Story-Tad Williams
Orlando the Boy Detective investigates a murder in the Oz simulation of the Otherland network.
Dorothy Dreams-Simon R. Green
Where do we really go when we dream of places like Oz?
Dead Blue-David Farland
When a cyborg loses the last vestiges of his humanity, someone's got to pay …
One Flew Over the Rainbow-Robin Wasserman
Dorothy wreaks havoc in an asylum as she rescues her fellow patients from therapeutic tyranny and struggles to find her way home.
The Veiled Shanghai-Ken Liu
Dorothy and her companions explore a steampunk colonial Shanghai, where they must make their way to the Great Oz to give hope to an idealistic revolution.
Beyond the Naked Eye-Rachel Swirsky
WISH, the newest reality show, stars Dorothy, the Scarecrow, the Tin Man and the Lion. Four contestants. One wish from the Wizard. Who will get their heart's desire?
A Tornado of Dorothys-Kat Howard
Dorothy Gale goes to Oz, and discovers a place haunted by the ghosts of stories past.
Blown Away-Jane Yolen
What if Toto was dead and stuffed, Ozma was a circus freak, and everything you thought you knew as Oz was really right here in Kansas?
City So Bright-Dale Bailey
Marxism comes to the Emerald City.
Off to See the Emperor-Orson Scott Card
Frank Baum's son has the real experiences that his father later fictionalized.
A Meeting in Oz-Jeffrey Ford
Dorothy returns to Oz after many years away, and learns its darkest secret.
The Cobbler of Oz-Jonathan Maberry
The tale of a Winged Monkey with wings too small to let her fly. Her only chance to change that rests with the Silver Slippers.