For the last few years, serious drone buyers have really only had to ask one question: whether to buy DJI's (excellent) $1000 consumer Phantom, or shell out $3000 for the pro-level Inspire 1. Chinese dronemaker Yuneec has just created a whole new option with the $1800 Typhoon H.
For your nearly two grand, you get a six-rotor drone with retractable legs and a 360-degree gimbal, which lets you frame shots independent of the direction fo flight, which is probably the biggest practical difference between a pro-level drone, and something like the Phantom 3 Professional, which also offers 4K video.
Thanks to those extra two rotors and a partnership with Intel, Yuneec is also touting this as one of the safest and most redundant drones: lose one rotor of a six-rotor craft, and you should still be able to land. Add in an Intel RealSense camera (something the company is promising to do in the future), and it will be able to sense and detect obstacles before it flies into them.
For control, you get an Android-powered controller with physical joysticks. It's a slightly different approach to the DJI system of plugging in your tablet to the controller, but it should allow for the same kind of flying experience. There's also a few autonomous flying features: Orbit, which circles an object keeping the camera on it, Point of Interest, which keeps one thing in frame, and Curved Cable, which should allow for smooth panning shots.
G/O Media may get a commission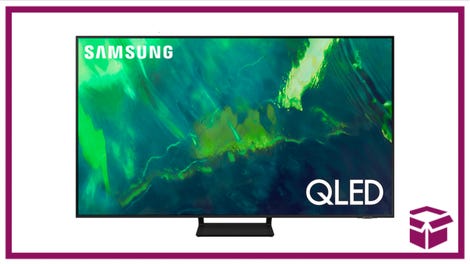 35% off
Samsung Q70A QLED 4K TV
Save big with this Samsung sale
If you're ready to drop some cash on a TV, now's a great time to do it. You can score the 75-inch Samsung Q70A QLED 4K TV for a whopping $800 off. That knocks the price down to $1,500 from $2,300, which is 35% off. This is a lot of TV for the money, and it also happens to be one of the best 4K TVs you can buy right now, according to Gizmodo.
On paper, the DJI Inspire 1 and Typhoon H are fairly similar: 4K video and 12 megapixel stills, a powerful medium-range controller with a handful of autonomous flying features, and a 360-degree gimbal.
The Inspire 1 has more imaging chops, thanks to the ability to add a micro Four-Thirds camera or a thermal imaging sensor, but those things will all cost you: a fully tricked-out Inspire 1 is upwards of $5000, which puts it in a different league to the $1800 Typhoon H. Add in the object-avoidance and extra rotors that the Typhoon H brings to the table, and Yuneec could well have a killer mid-level drone on its hands.