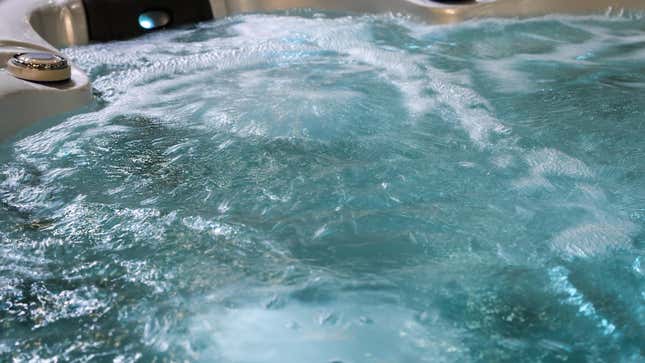 A day spa in Northern California might be the source of a deadly outbreak of Legionnaires' disease. Over the weekend, local health officials reported three cases of the bacterial illness, including two deaths, among recent customers of the Zen Day Spa in Richmond. The spa has now been closed down while officials investigate.
Vizio's Latest TVs Go All Quantum
Legionnaires' disease is a form of pneumonia (lung inflammation) caused by Legionella bacteria. These bacteria are ubiquitously found in freshwater environments, but it takes certain circumstances for them to make us sick. They sometimes find their way inside central air conditioning systems or other man-made water systems, including hot tubs. Once inside, the bacteria can multiply en masse and become aerosolized, spreading through the air in small droplets that are inhaled by their victims. People can also catch the infection by swallowing contaminated water that accidentally goes down the wrong pipe and reaches the lungs.
The Contra Costa Health Department reported the suspected outbreak of Legionnaires' disease this past Saturday after being notified of the two deaths on Thursday and Friday. In both cases, the victims had become sick just days after they visited the Zen Day Spa. Officials also learned of a third possible case who contracted the infection soon after using the spa's jacuzzi tub in June, though this person eventually recovered.
The health department's inspectors investigated the spa, finding no records that the business was allowed to have a spa or pool. They collected environmental water samples from the spa for testing, which are expected to yield results sometime this week. And on Friday, officials temporarily shut down the spa.
Most people exposed to Legionella bacteria do not go on to have Legionnaires' disease, though some can catch a milder infection called Pontiac Fever. But once Legionnaires' develops, it can be a serious, life-threatening illness that sends the infected to the hospital. While the infection can be treated with antibiotics, about one in ten still die from it. The risk of Legionnaires' and severe illness is higher in those with weaker immune systems, people over 50, or people with a history of smoking.
Contra Costa Health officials recommend that anyone who recently visited the spa to keep an eye on themselves. And if they do experience potential symptoms of Legionnaires', which include shortness of breath, fever, chills and cough, they should seek immediate medical care.