Do you want to know what power is? Power is going up on a stage, yammering about very little for half an hour, and boom, a few days later your company is worth nearly $7 BILLION more than it was a few days ago.
On Tuesday, Zuck took the stage at geeky strokefest TechCrunch Disrupt. He talked about ads, manically about the company's high morale, the (obvious) disappointment of the IPO, his commitment to connecting the world, his regrets about HTML5, the importance of mobile, (obvious) denials of a Facebook Phone, and other non-statements. It was poised hot air.
"Whatever," said people with money, and then proceeded to throw great wads of cash in the 28-year-old CEO's direction. At the close of Friday's trading Facebook's value was up roughly 15 percent from where it was on Tuesday, bringing the stock's price to $22 per share. Yes, that's still long ways off from its (crazy) IPO price of $38 per share, but let's put is this way: Zuck netted his company almost four million dollars per second that he spoke.
If I could do that I'd never shut up. Zuck should try releasing a crooning jazz album just to see what happens. [Reuters]
G/O Media may get a commission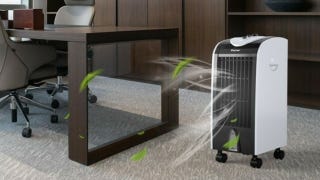 Save $10
Evaporative Portable Air Conditioner Cooler with Filter Knob