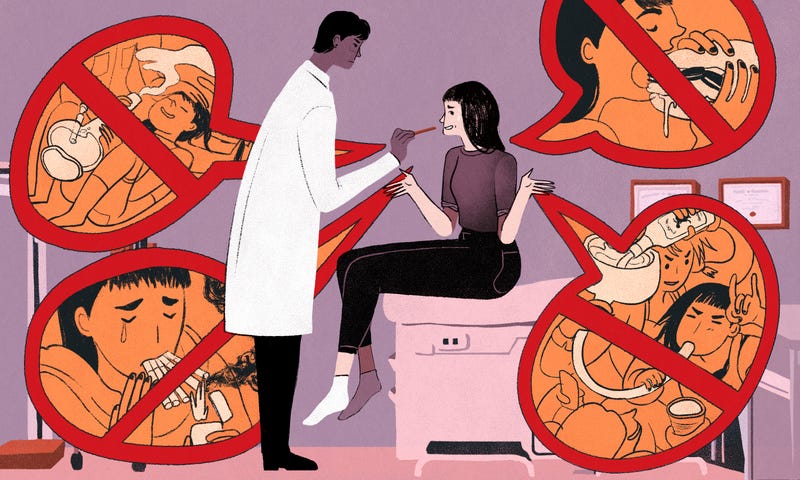 Doctors have this nasty habit of asking a lot of questions, many of which make us uncomfortable or self-conscious. So we bluff. A lot. Here are 10 typical lies we tell our doctors, and why these seemingly innocuous fibs are hazardous to our health.
(1) Yes, I'm taking my medications just like you told me
No, you're not. Sure, it's difficult to take medications routinely. It's awkward to fess up to your GP that you don't. But now, you're not just skipping out on prescribed treatment, you've given your doctor a dose of misinformation which could result in further adverse effects.
"I need to know whether the patient is taking the meds. If they aren't, and I assume the drug isn't working, it may cause me to switch to a different second choice med," Dr. David B. Agus, the Director of the Lawrence J. Ellison Institute for Transformative Medicine, told Gizmodo. A doctor might also unnecessarily adjust your dosage, since your current one (the one you're not actually taking) isn't apparently having its intended effect.
Dosage boosts come with their own set of consequences, such as increased heart rate, dizziness, and fatigue. So now you're actually undermining your health, which is the opposite outcome of why you went to the doctor in the first place.
Often, the doctor can tell if you're not taking specific medications—if you show up with elevated blood pressure, or your blood tests indicate high cholesterol. Ultimately, however, it's really on you. "Be honest about the meds you are taking or not taking," Agus says, "and then together we can make the right decisions."

(2) Nope, I'm not taking any prescription drugs or supplements right now
Oh, really? This seemingly minor omission could seriously derail your health. As Agus explains, when his patients don't tell him about all of the medications they're taking, he may miss an important interaction or potential side effect. This includes prescription drugs like blood-thinners, antibiotics, antidepressants, and heart medications, as well as supplements and over-the-counter drugs, such as aspirin, minerals, amino acids, botanicals, and vitamins.
"Supplements are drugs and need to be treated as such," he told Gizmodo. "They should be listed on a patient's record of their medications." The nature of drug-on-drug reactions depend on the particular mixture and the unique physiology of the patient, but some drugs pack a bigger punch than others.