Why did Viacom abruptly demand 100,000 of its videos be removed from YouTube? Turns out Viacom had other plans for its videos and films: tons of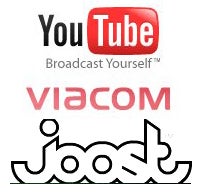 its content was on its way to another Internet video service: the hi-buzz peer-to-peer service called Joost. Suspicions arose when beta testers noticed a plethora of Viacom clips on the nascent Joost, the beta project with more clips than users thus far.
The Wall Street Journal says a licensing deal between Viacom Inc. and Joost is in the offing, where thousands of hours of Viacom content will be licensed, including programming from Viacom cable networks such as MTV and Comedy Central, and movies from Viacom's Paramount as well. This sets the stage for a battle royale between Internet titans, all fighting for nothing short of world domination of the next generation of home entertainment.


Niklas Zennstrm and Janus Friis, the two founders of Joost, also started up two peer-to-peer networks: file-sharing service Kazaa and slam-dunk Internet phone company Skype, and have done well for themselves. Awash in $2.69 billion in cash from their sale of Skype to eBay, the two are having no trouble financing their new Joost venture, which originally was called the Venice Project. Joost can now flourish even further with this new shot in the arm, adding Viacom to the Warner Music Corp. already on board. – Charlie White
Viacom to license content to Joost [Reuters]