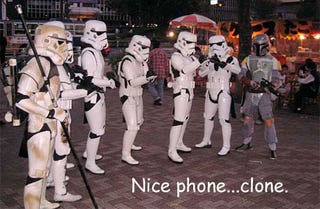 It's like that episode of Beverly Hills 90210 when Brenda and Kelly both say they hate that black dress with the big white bow on it, but then they each show up to the dance wearing the thing. And then they had a pillowfight in nothing but their hot pink scrunchies to battle for my love. Yeah...
Some people call them iPhone clones, others call them showing up in the same touchscreen. Whoever started developing first doesn't matter anymore; we just want to know which sexy iPhonish smartphone deserves our children's "college fund" the most. Hit the jump for our Frankenpreview of the different "iPhone clones" coming to the market, and see how they stack up against the Vision of Apple.



iSoftPhone
Price: $100

What??
It's not actually a phone. It's VoIP software that just looks like a phone.
But!
Hold your Macbook up to your ear, and that hipster chick eyeing you up at Panera will never know the difference.
Neonode N2
Price: N/A