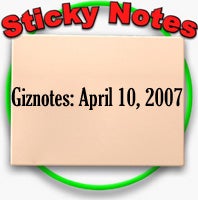 Epic wants to give you free maps for Gears of War, they really do. But according to Tim Sweeney, Microsoft just won't allow it. They want to set a consistent example with paying for downloadable content.
Even though Google said how sorry they were about "borrowing" content from Sohu.com, the Chinese company may still seek legal charges.
Maybe all that talk of a Palm buyout was a little premature? The PDA company is seeing strong growth in both Europe and Asia.
28% of US homes now have an HDTV. And check this out, 86% are highly satisfied with them. Apparently they don't read Gizmodo and see what's going to trump their brand new HDTV in a day or two.