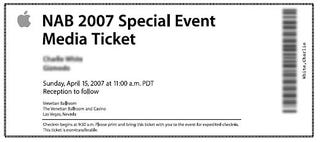 Remember: Be here tomorrow at 11am PST to watch us blog the Apple event at NAB, the National Association of Broadcasters conf in Las Vegas. We don't know what's coming down the pipe in a little more than 12 hours from now, but Apple at NAB has historically been all about AV software launches. In 2005, the company pushed out Final Cut Studio and Soundtrack Pro. But last year, Apple used the venue to launch a 17-inch laptop. So gadgets aren't out of the question. The launch rumors for tomorrow are:
A new version of its video editing application Final Cut Pro.
Long overdue, so likely.
Accelerated video and graphics from NVIDIA in the 8-core Mac Pros
Interesting to think the machines that were just launched in April 4th could get a revision already. We heard a rumor about hardware h.264 decoders (and encoders, I'd assume) but there's no evidence.