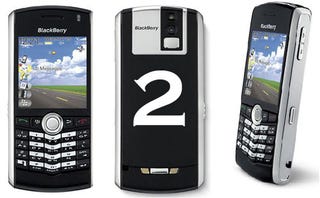 A reliable tipster has filled us in on a juicy secret.
The biggest update? High speed EV-DO. And a new unbelievable form factor.

If you thought the first Pearl was small, then know that the Pearl 2 will be even smaller, shaving nearly 8mm in depth and 30% of its weight to be competing with RAZRs. Still, the Pearl 2 manages to squeeze in a 2MP camera (upgraded from 1.3) and a MicroSD card.
The Pearl 2 is coming in Q4 of 2007—and it's looking to be a worthy successor to its little brother. (That picture is not the unit, as talked about in our rumor post.)