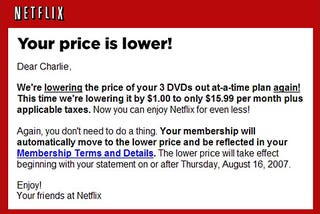 Netflix just lowered its prices on the "three DVDs out at-a-time" plan again, taking it down a buck to $15.99 a month. Our jaws dropped as we saw the above notice in our inbox, because it was just three weeks ago when Netflix had lowered the price to $16.99. Hey, keep those price reductions coming, Netflix! Pretty soon, they'll be giving them away. We have a price war on our hands between Netflix and Blockbuster, folks, and it looks like we movie buffs will be the winners.

UPDATE: Chris Null from Yahoo! gets official word that this is happening for 6.7 million customers.

UPDATE 2: Despite its customer service rep saying otherwise, now Netflix PR says this price reduction is a "test for a small number of accounts." We're feeling lucky to be a part of this "small group," because two of us here at Gizmodo got the discount, one on the East Coast and the other in the Midwest. [Yahoo]
The burning question now is, will Blockbuster match this price reduction by Netflix? Blockbuster now offers three DVDs at a time for $16.99 through the mail only, or $17.99 to get your movies through the mail and then get free in-store exchanges. Incidentally, the company just crippled that "total access" plan, limiting it to five free in-store exchanges a month with a charge of $1.99 each afterwards. That may be one of the first things to change back to the way it was before.