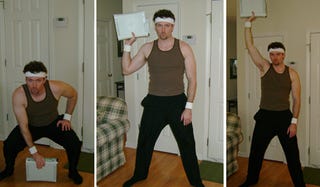 Does the image above remind you of this past New Year's morning? Have you made a resolution to get back in shape this year? The press loves to talk about a Wii Workout as if all it takes is a shudder of the Wiimote to make a gamer's gut melt into nothingness, which isn't true. I don't know many other gamers that would willingly leave the house or spend money on a gym membership, either, though. So here's a real workout built around only gaming and gaming hardware you already own, developed with the consultation of a professionally certified personal trainer (me). Happy sweating, tubby!

Before we begin, keep in mind that I'm not suggesting that using your expensive gaming system as a weight is the ideal situation—that would be stupid. You can use just about anything, even a jug of water to get the job done.
Step 1: Get the hell up (or have someone help you). Hangovers are a bitch, but the sooner you start, the sooner you will attain a physique that will actually be attractive to the opposite sex. (Too bad we can't work out faces, eh?)
Step 2: Now that you are awake, put down the Mt. Dew and grab a bottle of water. Drinking plenty of water is essential—it aids in digestion and it will help you lose weight. Just don't go overboard.