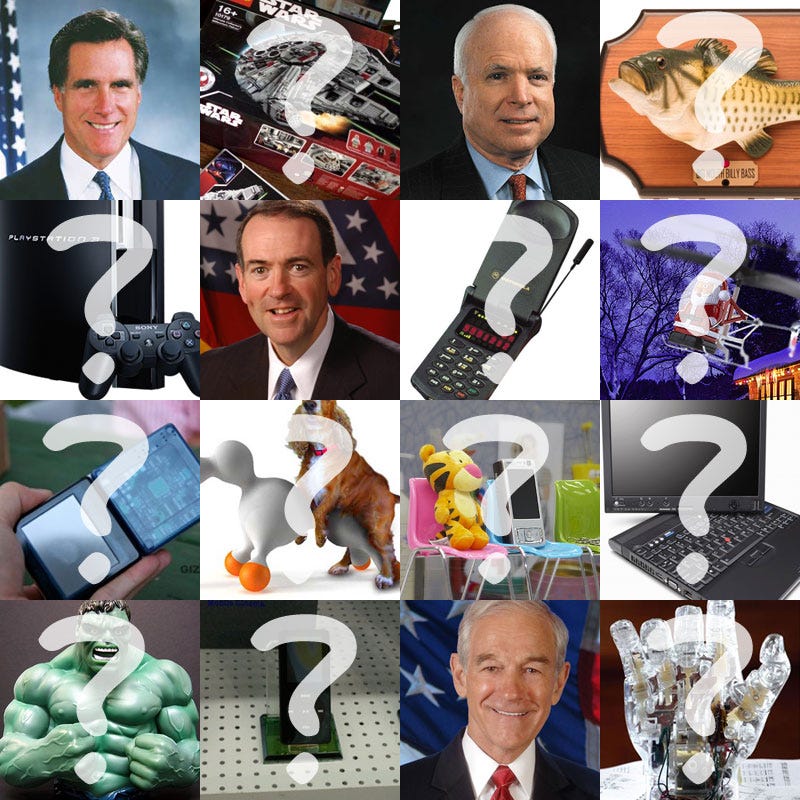 Click to viewTomorrow is Super Tuesday, meaning that from among the three Republican candidates (four if you count good ol' Ron Paul), a Republican presidential candidate should emerge. Since we're most interested in how the candidates stand on technology matters, we've presented them below. Now, we're not going to pretend that this batch is super up to speed on all things tech. But for readers who will vote Republican, you should know which candidate has your best tech interest in mind. And if that's too boring for you, if each Republican candidate were a gadget, which one would he be? We made the calls—you tell us if we're right.
John McCain
The 100-Word Version:
McCain thinks the market should determine the fate of the net, so government-mandated "neutrality" would be too much of an intervention. He also voted against renewable energy. He voted in favor of federal funding to get more tech in classrooms, yet he wants to be hands off in closing the digital divide. This is also the same man who is self-proclaimed as computer illiterate, and almost went broke before primaries even began.
Bonus Bits: McCain expects to be in Iraq for over 100 years. No matter what opinion you have on the war, just think about all the crazy gadgets they'll be fighting with then!
If McCain were a gadget, he'd be: a Motorola StarTAC cellphone. Once relevant and desired, both are woefully underpowered now, and backed by a company in financial turmoil.
Mitt Romney
The 100-Word Version:
Romney suspiciously lacks a position on many prevalent tech issues; he offers no statements on net neutrality and vague, blanket statements about subsidized tech programs that might help the poor. He did propose $20 billion for the automotive industry to research alternative energy sources. But he's more concerned with becoming energy independent from other countries, as opposed to finding a replacement for oil. Given his lifelong commitment to capitalism, Romney probably won't take any big risks in the name of technology.
Bonus Bits: Romney probably wishes we weren't living in the YouTube era, so the public wouldn't be exposed to his grasp on cultural relevance.
If Romney were a gadget, he'd be: a Lenovo ThinkPad. Romney and the ThinkPad both are meant for the business sector, eschewing romanticism for a bottom-line mentality.