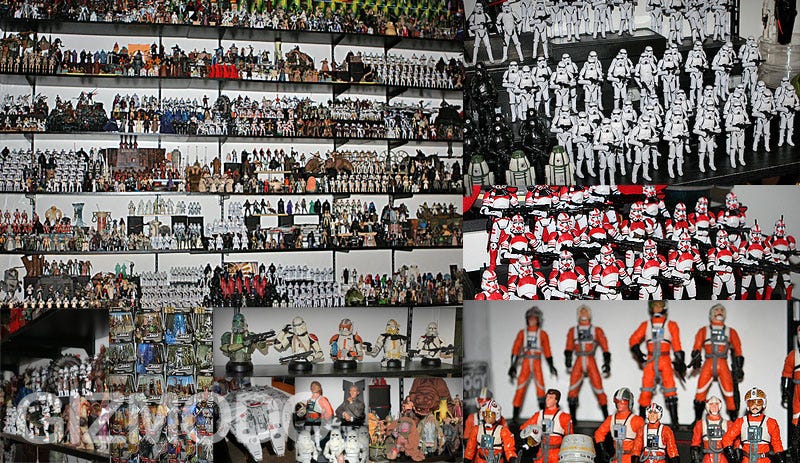 Rob Foster has almost all the Star Wars figures and models known to mankind, Hutts and Bothans. He and his girlfriend share their home with an overwhelming army of Star Wars collectibles, from vintage 1977 figures to full battalions of the latest Storm Troopers and giant Ultimate Collector LEGO models, in and out of their original boxes, in formation or reenacting movie scenes. Amazing 134-image gallery documenting every figure and angle, plus an exclusive interview with Rob after the jump.
It's Toy Fair 2008 and Rob Foster is looking for what figures and models to get next. Every year, companies like Hasbro, LEGO or Gentle Giant release new products related to Rob's favorite toy franchise ever: Star Wars.
Jesús Díaz: Hello Rob, stunning collection. The sheer scale, all those figures forming on the shelves, the models hanging everywhere, even all that LEGO stuff... it's just amazing. As I was going through each image, my only thought was: "omfg, it can't be real." So first of all: how many figures does your collection have?
Rob Foster: In terms of 3 3/4" figures, I'd say that there are a little under 2,000 open figures, and 800 or so that are still in the packaging.



JD: When it all started?

RF: I started collecting in 1995 when Hasbro brought the line back. I was 15 at the time.
JD: Long time. How much do you calculate it is all worth now? Something along the lines of the Transformers $1,000,000 collection?

RF: To be honest, I have no idea. The vintage and Gentle Giant products do well when you're trying to sell them, but the modern stuff is over-produced compared to the 1970's and '80s. It's not about making money, so I don't worry about that.