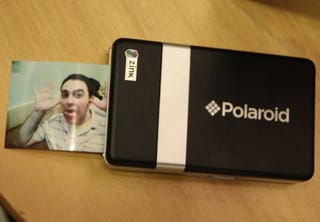 The Gadget: The Polaroid PoGo, an inkless printer that prints 2" x 3" sticker pictures from digital cameras via USB and cellphones over Bluetooth.
The Price: $150 for the unit, 30-packs of photo paper cost $10.
The Verdict: Though, like you, I wasn't totally sure about the PoGo, after using it, I was surprised at how promising and unique the little gadget is. It solves the biggest problem with taking pictures on cellphones, the fact that you can't look at them anywhere besides your phone. The credit-card size prints look decent enough for what they are (though in Wilson's expert opinion, they're still "lousy"). It prints using Zink, an inkless technology that uses photo paper with billions of colorless dye crystals in CMY layers that change color when activated by heat. This means that the pictures are dry as soon as they develop, and you NEVER replace ink or toner cartridges. The prints are also waterproof, tear and fade resistant, and have an adhesive backing so you can stick them anywhere.