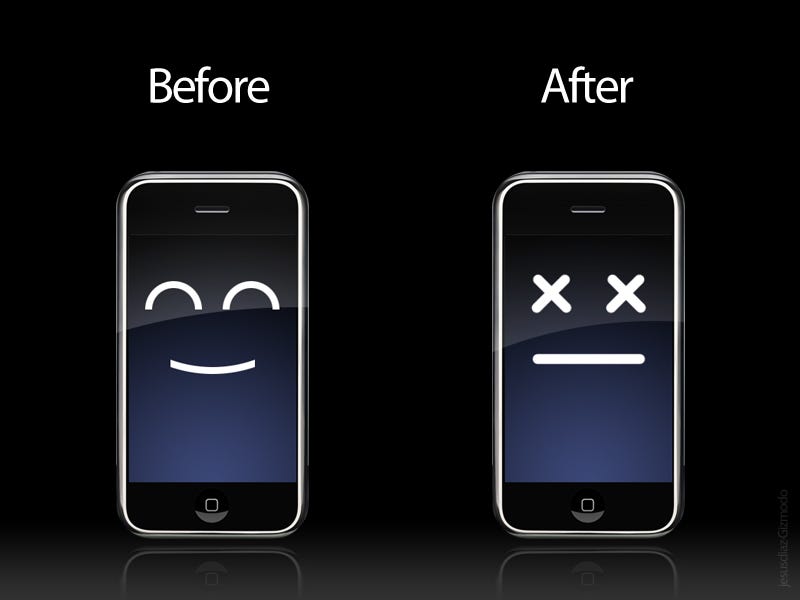 I've always been a Windows user, which means I've always been subjected to the ridicule of holier-than-thou Apple fans. You know what I'm talking about: blue screen of death jokes, spelling Microsoft with a $ in place of the S, saying "it just works" with a smug, chubby-faced smirk. It's always been annoying, and it's always made me want to avoid using Apple products just so I wouldn't turn into one of those people. But then the iPhone came out, and I wanted it. But I being a Windows dude, I knew to wait a year for what I thought would be a more complete, less buggy version. It was Apple's opportunity to get me into the fold, to make me a member of the cult. And boy, did they blow it.
I really would love to know where Apple got this reputation of creating lily-white products that never need fixing, created by a company that cradles its customers in fluffy clouds of superior technology. According to my first experiences with an Apple OS, that's a whole lot of bullshit.
The iPhone 3G is infuriatingly buggy. It crashes. It doesn't get great speeds when it should, switching to EDGE in areas that have 3G coverage. Coming out of the subway, it takes minutes to find a signal again and stop claiming to get "No Service" in the middle of Manhattan, often requiring a restart. Requiring a restart to get service! What is this crap? And when I do have service, calls still drop and fail all the time. The keyboard lags so much that writing text messages is more annoying than using T9 texting on a number pad. The orientation switching when you rotate the phone is inconsistent at best. Backups take minutes, sometimes hours. Sometimes, the audio output dies and it needs to be restarted to listen to music through headphones. If you've got an iPhone 3G or have been reading news on Giz, none of this will come as a surprise to you. What's surprising to me is how they're reacting to to the problems.