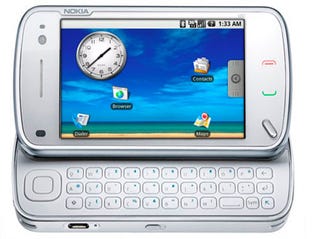 From London's Guardian, we get this surprising report: Nokia, (recent) full owner of Symbian, is making an Android touchscreen phone, set for unveiling at a conference in September. This would be strange! (UPDATED: Nokia denies)
It's not just that the rumor if totally out of left field—and besides, baseball lingo probably isn't appropriate for a British story about a Finnish company. It's that, on the surface, it just doesn't really fit with Nokia's MO. First and foremost, we've got the issue of Symbian, Nokia's still-developed-though-kinda-old-seeming OS, which they finally fully gobbled up last year in a multi-hundred-million dollar deal, and for which they've just opened a brand-new app store called Ovi.
Then we've got these rumors about what the recently announced Nokia/Intel collaboration could possibly be. Many people see a tablet with an alleged in-house OS called Maemo Harmattan—odd and mysterious, sure, but decidedly not Android. In fact, it's hard to see where, if anywhere, Android could fit into this rumor.