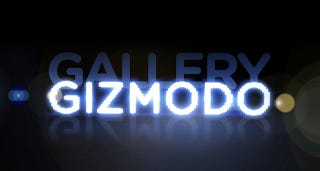 When I was a boy, I loved New York's Museum of Natural History. Mostly the dinosaurs. But why, in the tech world, are there no places to celebrate gadgetry as art, history, the things we love?
This year's follow up to the original Giz Gallery is just that.
It is a collection of the greatest gadgets and tech we could find and fit under a roof. It is not meant to throw things in your face that you don't need so you can engulf them in exchange for debt, but is here to celebrate what is great about our world of tech, commercial or hacked, new or old. And there is no other collection in the world like it for strength of display of amazing technical achievement and fun—sometimes those artifacts are commercially made but more often, not. And this year we've learned a few new tricks.
It'll be 3 times bigger in a new location and open nearly 3 times as long (from September 23rd to the 27th). And from what we learned last year, we added lots of stuff for you to play with: there's less of an emphasis on staring at old, important pieces of gadgetry in glass cases, and more chances to try things out. We have over 60 devices this year; here are just some of the things we're bringing you:
• Tesla coils. Singing. Three times a day. (Hello? Man made lightning? Check!)





• Panasonic's amazing 103-inch TV, again. With exclusive art from Bad Robot's Star Trek playing on it. When we're not playing Rock Band or Call of Duty.