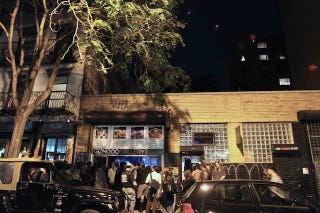 Gallery ended a week ago. I have no excuse for posting this Thanks/Closing post til now. Except that I just recovered from my Pancake Hangover. And never got tired of them. Just a little diabetic.
The two weeks we were in NY setting up went by in a blur. Mostly because we were having fun, but also because we weren't sleeping very much and we were not exactly living a healthy lifestyle. I wasn't watching the website that much (the rest of the gang was) but I was sitting next to that 103-inch Panasonic and trying to get work done through the blaring of Beatles Rock Band. The lesson learned: Don't expect to get work done while you're playing xbox and hanging out with cool people. Who would have thought?
There were so many obstacles that Chris hurdled one after another. Our electrician, Fil, saved our butts by making sure our demanding gadgets got clean power. And so many times on our opening night's private preview, did people almost get electrocuted. More on that, here. But here's a video of the party, which is fresh from the editing oven!