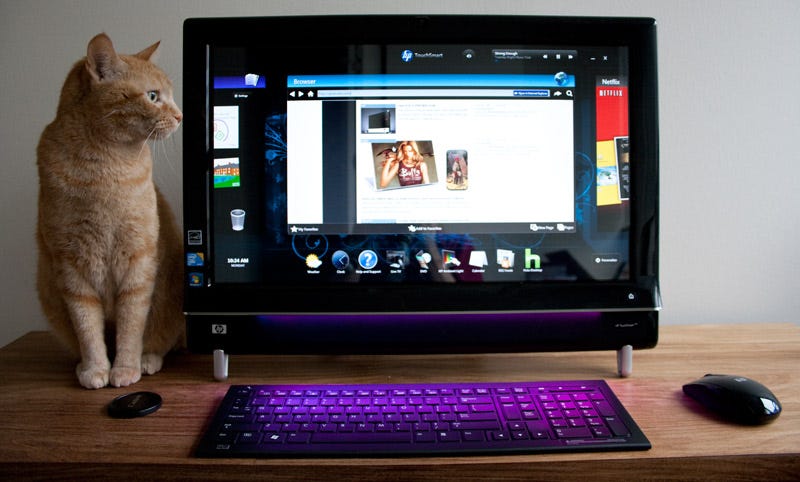 The HP TouchSmart 600 is sort of like a girl I "dated" in fourth grade. I can't say I loved her, but I can say that I really, really liked her a lot. But the TouchSmart never wore braces.
Price
Starts at $1,050 on October 22nd. $1600 as tested.
Our Configuration
Intel Core 2 Duo 2.13GHz, 4GB DDR3 RAM, slot-load Blu-ray player/DVD burner, NVIDIA GeForce GT230M with 1GB dedicated RAM, 23-inch 1080P multitouch display, and a slew of inputs, including 6 USB, a card reader, coax, S-Video, HDMI, audio and composite.
What's New
This is the third generation TouchSmart. The two-point, IR-based multitouch PC remains thematically unchanged, but the combination of hardware and software is finally gelling. The new stuff includes:
• Windows 7
• HDMI-in
• Updated TouchSmart UI
• Custom Hulu, Netflix, Twitter and Absurdly Cool Recipe Book Apps
• HD Tuning (not CableCard)
• Fully customizable LED under-lighting
• Tilting webcam
The Hardware
You'll recognize the body design as almost unchanged from the last generation, but that's not necessarily a strike against the TouchSmart. While the body is mostly plastic, the high gloss black is unoffensive, and good for making screen colors pop like an HDTV. A majority of the TV-style input set is cleverly hidden behind a panel, should you prefer the seamless look.