The HP TouchSmart 600 is sort of like a girl I "dated" in fourth grade. I can't say I loved her, but I can say that I really, really liked her a lot. But the TouchSmart never wore braces.
Price
Starts at $1,050 on October 22nd. $1600 as tested.
Our Configuration
Intel Core 2 Duo 2.13GHz, 4GB DDR3 RAM, slot-load Blu-ray player/DVD burner, NVIDIA GeForce GT230M with 1GB dedicated RAM, 23-inch 1080P multitouch display, and a slew of inputs, including 6 USB, a card reader, coax, S-Video, HDMI, audio and composite.
What's New
This is the third generation TouchSmart. The two-point, IR-based multitouch PC remains thematically unchanged, but the combination of hardware and software is finally gelling. The new stuff includes:
• Windows 7
• HDMI-in
• Updated TouchSmart UI
• Custom Hulu, Netflix, Twitter and Absurdly Cool Recipe Book Apps
• HD Tuning (not CableCard)
• Fully customizable LED under-lighting
• Tilting webcam
G/O Media may get a commission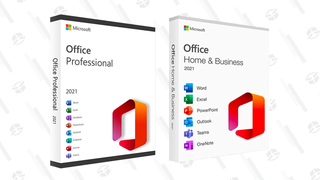 89% off
Microsoft Office Professional 2021 Lifetime License
The Hardware
You'll recognize the body design as almost unchanged from the last generation, but that's not necessarily a strike against the TouchSmart. While the body is mostly plastic, the high gloss black is unoffensive, and good for making screen colors pop like an HDTV. A majority of the TV-style input set is cleverly hidden behind a panel, should you prefer the seamless look.
As for that screen, it's as good as any low to mid-tier LCD HDTV, but its multitouch is not quite perfect. If you pace your movements, it's about 95% accurate at tracking your fingers. If you don't, that number drops to 85%. And should the system be strained with a lot of multimedia tasking, the touch only gets worse. But I make this all sound a lot worse than it is. No, the screen isn't as accurate/wonderful as capacitive tech, but it's a lot better than resistive.
The wireless low profile keyboard and mouse are both understated and completely functional. And a decent remote gives the whole package that home theater feel for when you need to do a little IR blasting.
Audio dribbles through a soundbar sits under the screen. The quality is passable for television, but there's potential here for improvement—the highs are tinny and there's not real bass. Music lovers will want standalone speakers (which is too bad, because everything else is great.)
But again, I almost hate saying bad things about the build because what the TouchSmart does right is sooo cool: the software.
The Littlest Media Mogul

If you just want to multitouch your way through Windows 7, the TouchSmart allows that. But to really take advantage of the system, you'll want to use the TouchSmart interface and the wonderful, custom apps. Sure, you can mess with photos, take hand-drawn notes and watch video clips, but here's the more notable stuff. (Check out the video above to see some of these apps in motion.)
Netflix

I couldn't enjoy the Netflix interface more. Flick through your library, click a movie and just wait for the server to stream it. It's probably the slickest Netflix skin I've seen to date.
Ambient Lighting

It's technically a series of LEDs under the monitor, but Ambient Lighting makes its way into the apps section since you can choose from the entire spectrum of colors through a touch interface. The glowing effect, while a tad cheesy, is incredible customizable.
Twitter

Tweetie is my client of choice on Mac. Most all of the advanced functionality is duplicated here. And if you really want to, you can type on the onscreen keyboard. It works, but I'll take the real thing, thanks.
Live TV/DVR

It's easy to get mixed up in the submenus and the software is obviously resource intensive, but otherwise, you're working with a fully-functional HD DVR (sitting on top the core of WMC, as I understand it). Flicking through programming guides is surprisingly natural.
Hulu

Stuck in an update loop, I couldn't test Hulu. Given the quality of HP's other bundled apps, especially Netflix, I'm willing to give it the benefit of the doubt.
Music

The music app is super smart because it incorporates MP3s, Pandora and Rhapsody into, well, not exactly one interface but at least one basic app. Browsing albums is smooth in a Cover-Flow-like spread. Pandora is a bit disappointing in that most of the UI is spent on the Pandora logo. But it works.
Recipe Box

Despite the failings during my tech demo above, this little app is embarrassingly fun. Through a built-in browser, you can rip any recipe containing "directions" and "ingredients" from almost any webpage. With one button, the recipe appears in your own book, formatted like everything else in your collection. Now, should you have your hands full, the system supports voice commands to read you the recipe. It didn't work in my demo video, but even when it did, the system fulfilled all the stereotypes of poor voice commands and text-to-speech. Still, Recipe Box is a clever way to bring an all-in-one into the kitchen.
The one downfall here is that HP has designed TouchSmart to run all of the bundled apps at once. You're truly multitasking, and that means stacking HDTV, Hulu, Netflix, photo editing, a browser, Twitter, and even more video playback. The system generally handles itself admirably, but the TV tuning definitely tips the scales on occasion (just watch the video for interface stutters). If I were to use the system as my DVR on a regular basis, I'd probably cut down the fat on HP's apps and buy myself some resources.
Another point to mention is that, while you can customize HP's dock with any apps you like, those not designed by HP (say, Microsoft Word) will merely link you to the full app in Windows. So you can't work on a term paper in the fancy media interface, but then again, you probably don't want to.
Oh, and for some reason, the back button within apps often brings you back to the same information in a different view than you started with. That's a perfect candidate for a patch if I've ever seen one.
Like, Not Love
I want to love the TouchSmart 600, but I just really, really like it a lot. The functionality is all there; no one can question the full media suite of apps, like Netflix, Hulu, and Twitter, let alone the full Windows 7 OS sitting right behind HP's optional software. It's the light performance hiccups coupled with a less than 100% touch interface that stop me from screaming at the top of my lungs, "YOU SHOULD BUY THIS RIGHT NOW OR GIVE UP ON LIFE COMPLETELY."
But maybe you should buy the TouchSmart 600 right now. Other than Sony's upcoming Vaio L, there's no all-in-one quite like this on the market. Coupled with a netbook, you'd have portability and an entire media center at your disposal. The combo, for something like a dorm room or small apartment, would be unquestionably wonderful.
Versatile media platform


Neat, functional apps


Full Windows 7 sits a click away


A reasonable home theater replacement


Imperfect, but decent multitouch


Speakers sound pretty lousy


DVR tends to slow the whole system