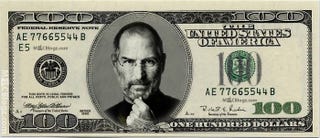 Apple just sold more Macs and iPhones than ever before: 3.05 million Macs and 7.4 million iPhones. iPods, doomed that they are, are still dying. But, Steve promises "some really great new products in the pipeline for 2010." Updated live.
Update 2: Q & A time.
Analyst dude asks what Apple thinks of wannabes "like Android." Answer: Apple "feels very good about suiting up against anyone" since they've got 85,000 apps. COO Tim Cook says, "Frankly, I think people are still just trying to catch up with the first iPhone 2 years ago."
Man, this is the most boring ass Apple earnings call ever. Nobody's asked a stupid tablet question to elicit a really snippy reply from Tim Cook, which has pretty much ruined it for me.
The earnings call starts in 25 minutes, and we'll be bringing it to you live.
There's some funky accounting going on now with some new accounting guidelines that lets them officially recognize the revenue from an iPhone, iPod touch and Apple TV (stuff they've been reporting revenue from over 24-month periods previously), so that's something to watch for over the next quarter or so. Business Insider explains what all that means.
Update: $9.87 billion was the second highest revenue ever, next to last Christmas season.
Mac's growing 17 percent, while the rest of the market only growing at 2 percent. Laptops are over 74 percent of Macs sold. Desktops are dead, biatches. Most educational Macs shipped ever, they're indoctrinating our youth. Half of Macs sold in Apple Stores still sold to first-time Mac buyers.
Snow Leopard upgrade box sales double Leopard's at release.
10.2 million iPods sold, down from 11 million a year ago (down 8 percent). iPod touch sales were up 100 percent though, showing, again, where the growth is. This is crazy: 50 percent of recent iPod buyers were buying their first iPod. They've still got 70 percent of the MP3 player market.