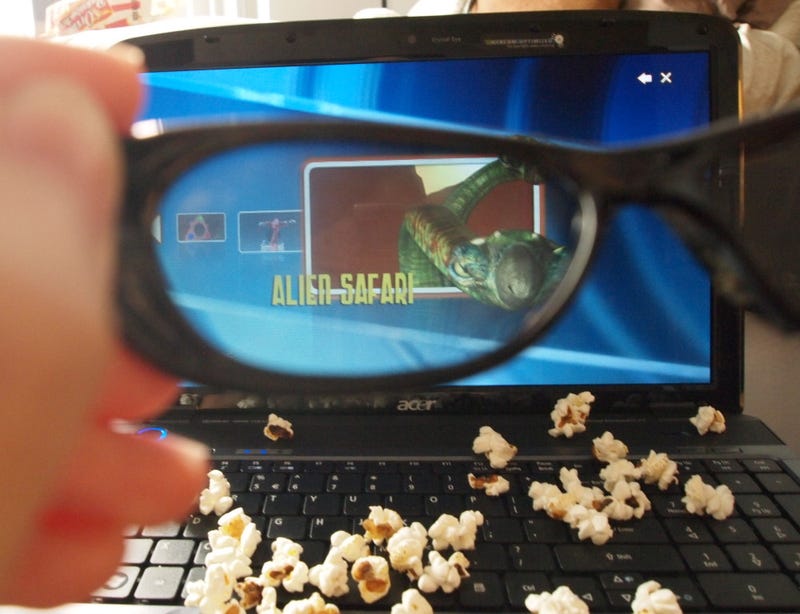 Acer, I see right through you; you meant this $800 3D PC for the college stoner.
Watching an army of 3D crustaceans attack from the sub-$800 Aspire 5728DG's 3D screen is truly awesome. But ultimately, it only makes me crave Disney World's full-out MuppetVision 3D. And the larger screen isn't all I yearned for.
Don't get me wrong, watching some clips and playing games in 3D on the 15.6-inch screen is pretty damn cool, but the experience is limited in screen size, viewing angle, and content. Oh, and did I mention that it actually hampers the experience for viewing non-3D images? A well-performing budget notebook the Aspire AS5738DG is, but as a 3D theater and gaming console it leaves a bit more to be desired.
Price
$780 (As configured with a 2.00 GHz Intel Core 2 Duo Processor P7350, ATI Mobility Radeon HD 4570 graphics, 4GB of RAM, Windows 7 Premium, 320GB hard drive)
Three Dimensional Computing, Kinda
Acer's 3D notebook doesn't use Nvidia's more expensive 3D Vision GPU and technology, but instead uses TriDef's, a mixture of a 3D film coating on the display, polarizing glasses and software. The notebook comes with a pair of polarized 3D glasses (thankfully the lenses aren't a tacky blue and red) and embarrassing clip-ons for those out there that already wear spectacles.